Hosmer Lake Custom Piece Part 2
After I finished the texturing of the birch cradle panel (see Hosmer Lake Custom Piece), I began painting!
I began with the sky, a pale, neutral yellow tone. Then placed Mount Bachelor in just beneath the sky.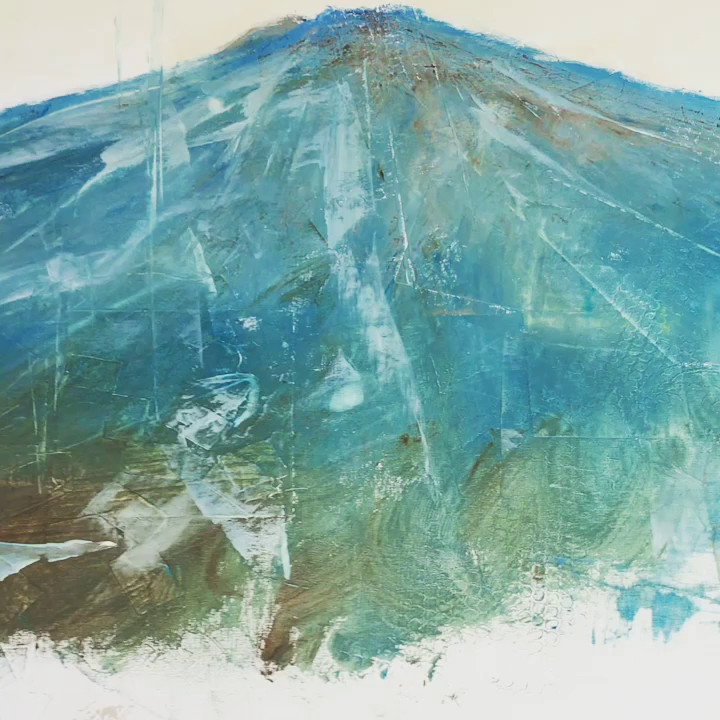 I used a mixture of watercolors and gouache, thick and straight from the tube, mixed on my flat palette. I wipe and scrape the colors together, using plastic packaging (from Amazon, usually, LOL!) as my "brush" and a painter's scraper tool. I pulled three colors plus white into the mix in different percentages as I moved across the mountain: Turquoise Blue, Cobalt Blue, and Burnt Umber. I try to keep my palette limited to 3-5 colors in every painting.
After the mountain took shape, I started with the treeline.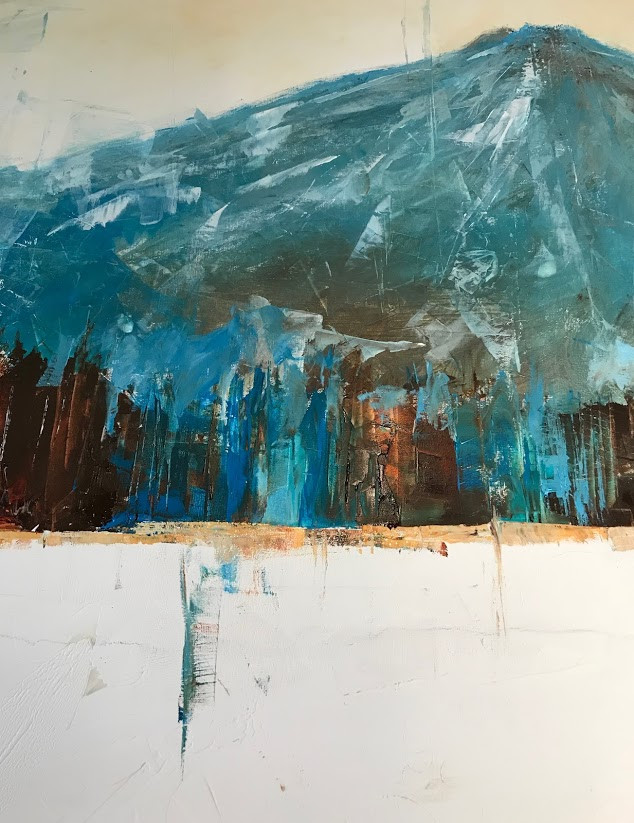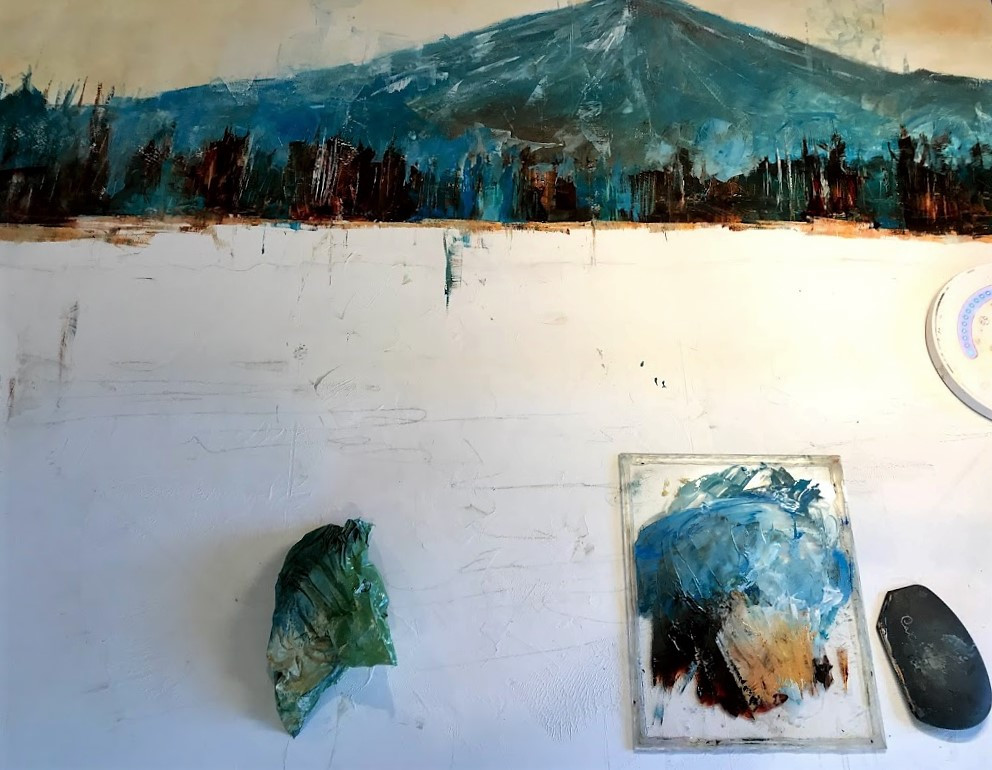 As you can see, the group of trees at water's edge is only a mass of shape, changing colors across the width of the shape. I placed the shapes in with a scraper, no brush. This time, I added Quinocridone Burnt Orange into my palette, to enrich and warm up the trees as they become closer to the viewer. A thin horizontal line of Naples Yellow hints at grass where otters climb in and out of the water.
Next, the water! How fun it was to create Mount Bachelor's reflection and the ripples from my kayak distorting the image.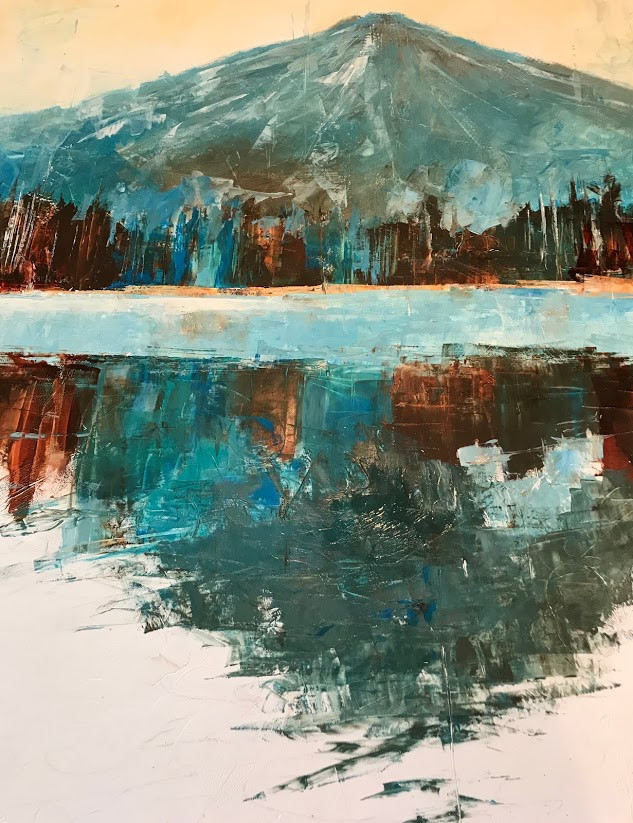 Once the darkest area of the reflection had been placed in the painting, I used my packaging wrap to soften edges and create lighter water.
The reflections in the water were crazy fun. I tipped the painting up vertically, dripping and running water on the surface to cause organic vertical lines. Look at these abstracts: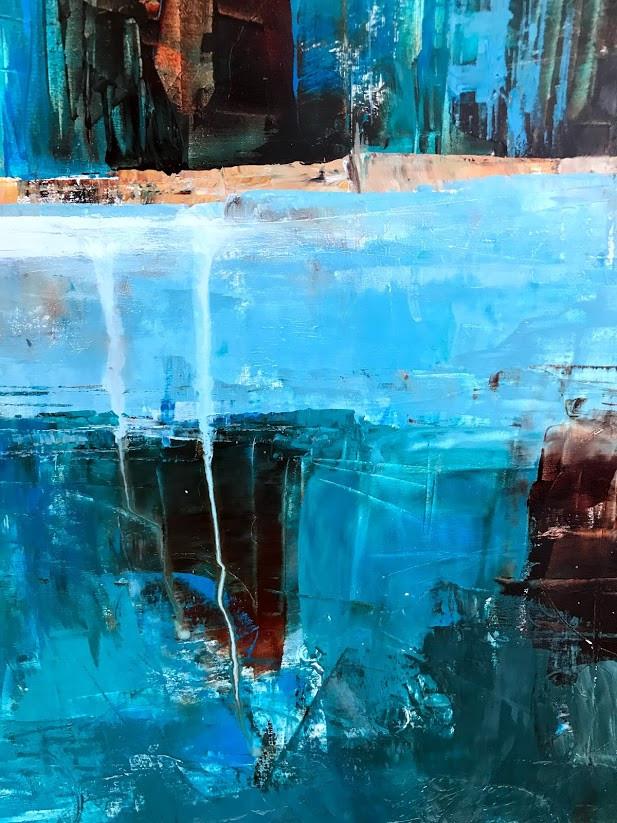 And a close up: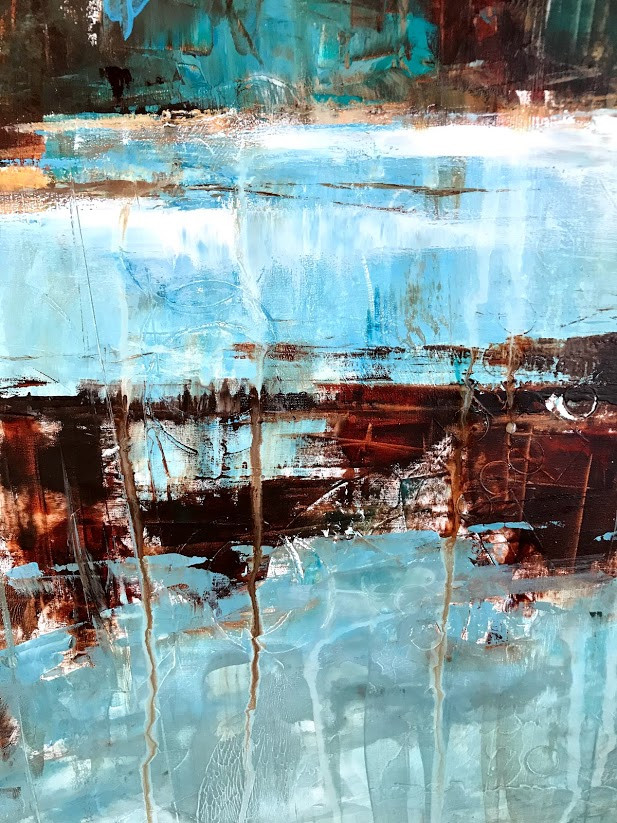 So fun! You can see the imprinted water plant in the surface of this last photo. It is right at the bottom, in the middle of the picture.
I wrote script vertically in the lower LH area of the painting, the script is from journal entries about my time at Hosmer. It says "Underneath velvet sunlight, grebes called against turquoise waters". Here is a detail of that area. The script comes and goes, and is not intended to be read clearly.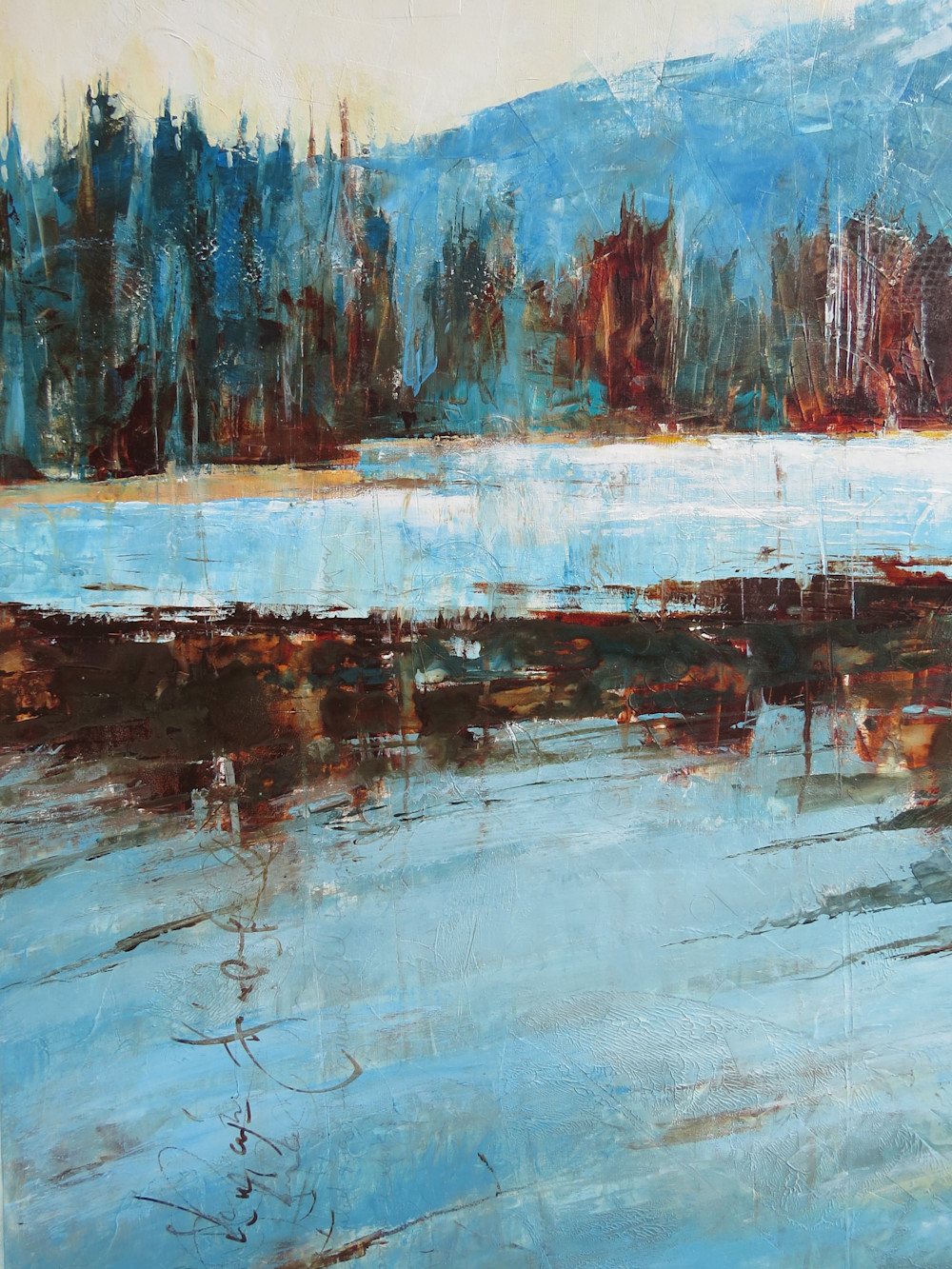 Imprinted circles in the texture represent bird songs I heard at Hosmer Lake: Pied-Billed Grebes, Yellow-Headed Blackbirds, and coots. Their size and repetition match their volume and rhythm of calls. Texture from Hosmer Lake is visible across the painting: Lily pad leaves, other water plants, reeds, and grass.
This painting has sold to my very happy client, however, the print will be available from my website. Contact me to discuss a custom landscape piece. They are truly one-of-a-kind original, customized, made just for your space: size, color, and subject. It's a fun collaboration. Why not purchase artwork that really means something to you?
Cheers everyone!