Pandemic Period and Art
As crises build, artists react.
The Pandemic Period, as I'm calling it, will result in an artistic shift for many artists. A residual stain on our souls will bear scars depending on how deeply we were affected. Art from this period will reflect those scars. Like Picasso's Blue Period, some artists may find a noticeable change in their work. Or a more subtle shift may occur, something barely recognizable but to the artist. But existing, nonetheless.
For creative souls, who mostly internalize emotions, these feelings need to be expressed through art. The interesting part, then, is just how and when they will change. We may see changes quickly, as a few artists begin to paint it all out immediately, such as an abstract artist switching to paint figures to illustrate loved ones lost. Other artists may ruminate for a while, taking years or months of gradual change. Possibly, the only changes we may notice might be as simple as a palette shift or a slight adjustment to edges or values. As works emerge, changes will unfold a beauty among anxiety and pain of the period.
Personally, I find myself ruminating. I swing wildly between despair, hopelessness, and anger. But I also find gratitude in every day; love for my fellow humans, peace in the outdoors. As those emotions fight daily to rise to the top, I work them through physically with brush and paint.
Some days, I reach for different materials, a darker or lighter palette, or a big composition. My gestures tend to be quicker and more impatient (can that be true???). Raw energy comes through the strokes. To address a need for solidity, I've begun to use acrylics with molding paste as a medium. A desire for opacity and buttery application just feels right when paired with a palette knife. Experimentation with materials centers and challenges me to think of other topics; think of things from a different angle. Nothing feels the same as it was before. So I adjust my paint.
Here is my recent work. Can you see any differences in the painting below compared to my work last year?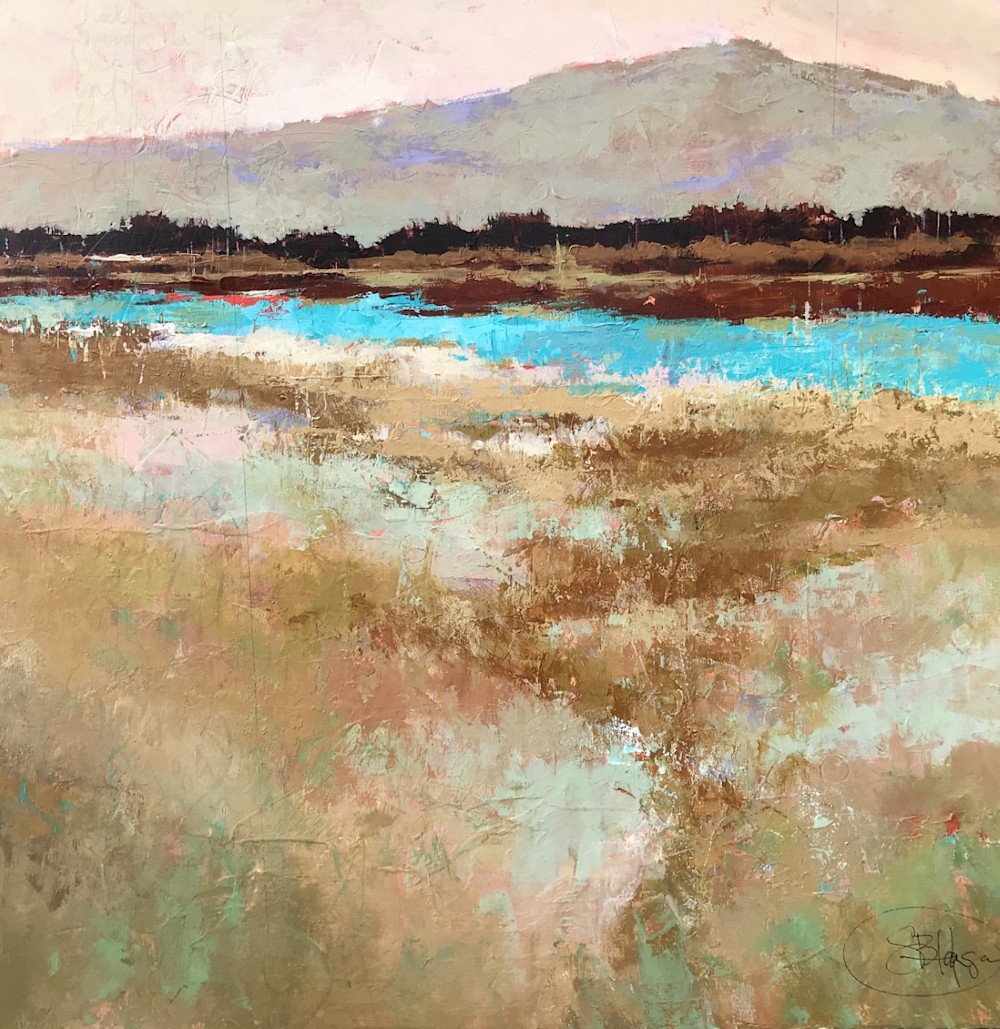 It is moderately different to me, yet the same. How has it changed?
The painting is of Davis Butte, near Cultus in the Cascades. A quiet, peaceful place of pelicans and sandpipers. Calm in the midst of anxiety. In the painting, I've written the words:
Whispered a little out of tenderness, she makes the willow shiver in the sun.

~from Sunday Morning, by Wallace Stevens
The Pandemic Period will be interesting to reflect upon and identify shifts, big and little, artists find during this time. We will see scars, surely, but also a progression in maturity of work. I am certain I, and many others, will grow in ability and and depth as we work to express ourselves more effectively through materials. Future creations from both myself and my fellow artists will be exciting to witness.
Stay safe, my friends. Thank you for reading.
Willows Shivering in the Sun, above,18x18 original acrylic and mixed media on board. $750. Available at Tumalo Art Company