Plein Air Adventures to Come
Late last year, I treated myself to a Strada Mini Easel and tripod set-up for outdoor painting. Usually, when hiking, I'll paint in watercolor journals, which doesn't require a tripod/palette combination. Last year, however, I became interested in exploring painting outdoors on prepared panels. I made an investment in the easel to help facilitate that journey.
I can easily load up my backpack with the easel, tripod, gouache and acrylic paints, panels, a lightweight chair. A short exploration on foot or bike usually reveals a beautiful place to set up. When painting on panels outdoors, I pay more attention to composition, color study, and value of natural forms than I do when painting watercolor journals. In this way, I not only enjoy nature while painting, but I hope to improve my art, develop friendships with other plein air artists, and relish in the practice of infusing my own style into landscape work.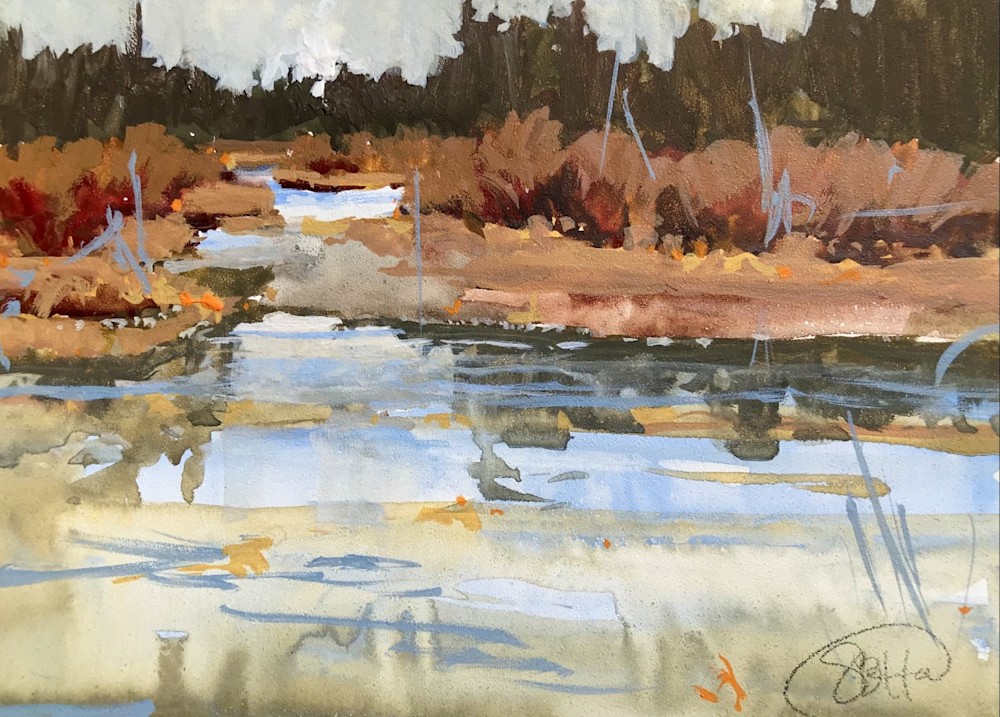 Now, painting outside is not without its own set of challenges. There are issues to deal with, some not so pleasant. Elements such as rain, gnats, wind, and weird conversations with passersby occur (the last is a long story to be told later...).
For instance, last week, the wind had a fierce gust-like quality to it, but I decided to paint anyway. "Just huddle into a protected place, Sarah," I said to myself. Did I listen? I did not. Instead, I found myself painting in an open meadow as the wind pulled and pushed the only vertical elements in the field: Me and my easel. At one point, it tossed my easel to the ground. As it tipped, I swiped at items, trying to catch parts and pieces as they flew. Paint tubes scattered into the air and my painting landed (upside down, of course) into the dried marsh grass. Well? Those little grass pieces certainly add authenticity to the work.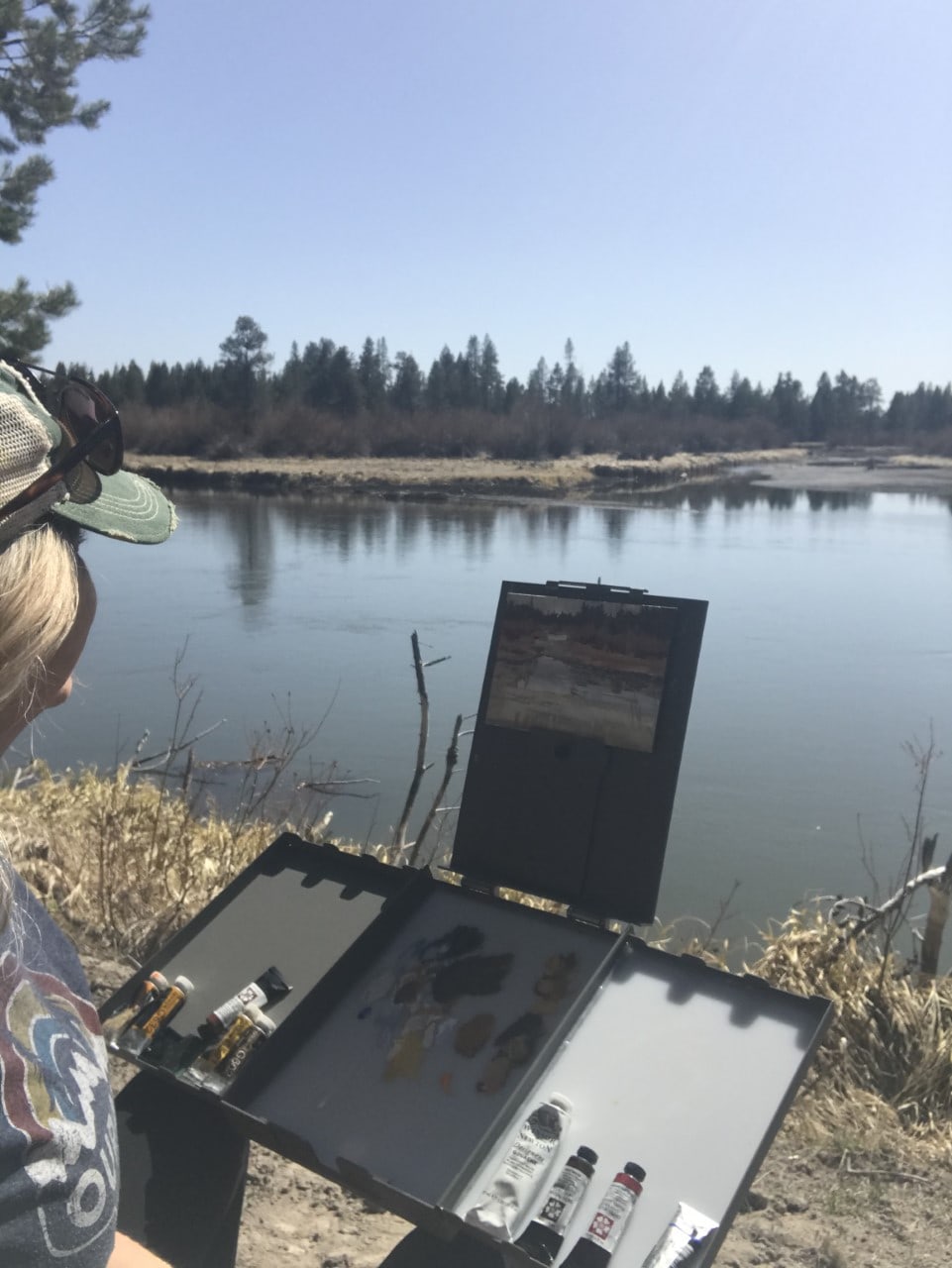 This photo was NOT the windy day. See? I'm smiling, not gritting my teeth and grabbing the easel.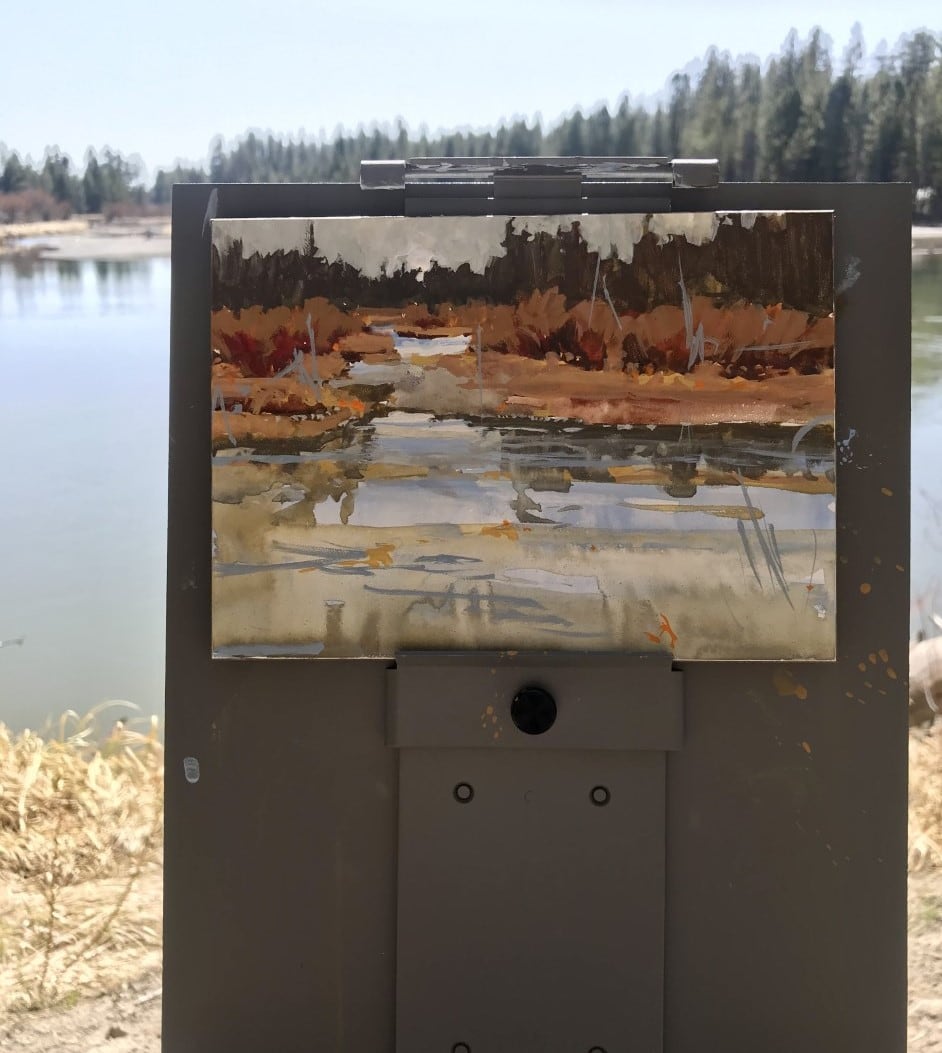 I wonder what other adventures await from painting outdoors this year!? I can't wait to see!
I'll be sharing my journeys here in my blog and on Instagram and Facebook @sbhansenArt.
Thanks for reading, everyone. Hugs to you all.
~Sarah
Plein air Deschutes River, above, 5x7 gouache on panel. $125 available.