Secret Meadow
We found a secret meadow...
My husband and I had been hiking off-trail during The COVID Spring, looking to harvest mushrooms. We came over a ridge and popped out into a meadow neither of us knew existed. It was full of yellow flowers, a peek-a-boo view of the South Sister, and a winding stream amid firs and pines.
An oasis.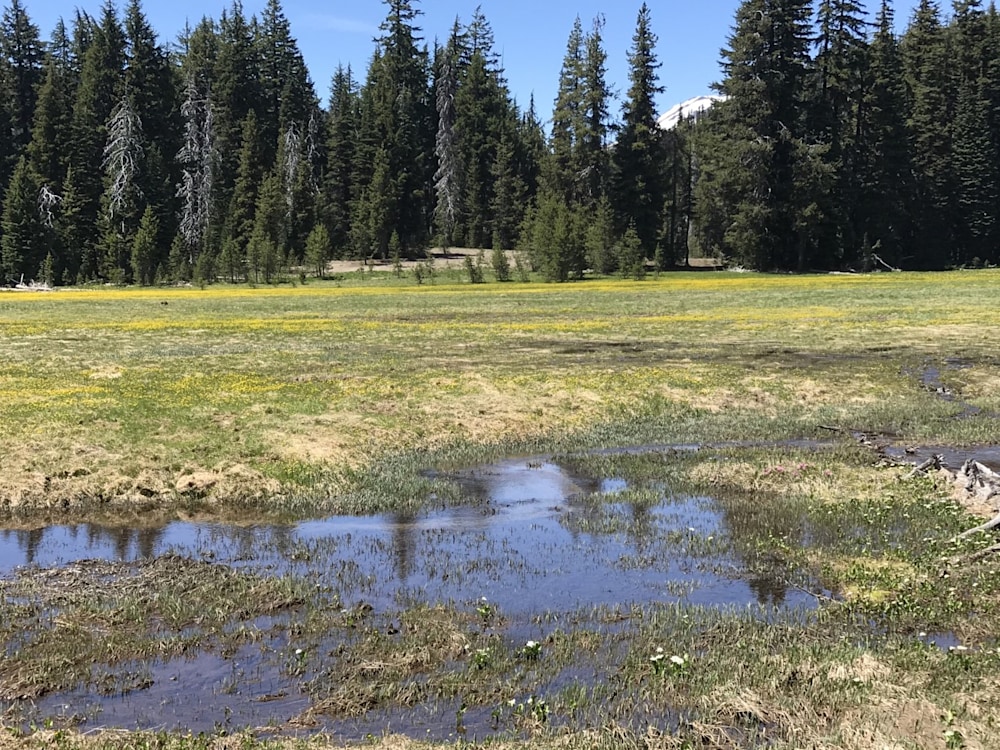 Such beauty! Such peace! Little birds everywhere! I took about 50 pictures with my phone, so enraptured was I. My husband, fairly patient and used to this craziness, finally began to move down the trail. I mean, enough is enough, right? And I suppose he was right. When I arrived home, I looked through the photos, and A) none of them did the meadow justice, B) most of the pictures were pretty much the same.
But, being a girl from the 70's/80's, I always relish in the fact that I have immediate access to phone photos, and can delete them at whim. No more film rolls of 24-36 pictures, some blurry, some repeated, and all printed on paper, 2 weeks later, with no options to crop or adjust.So, yes, I take a ton of photos. :)
Anyway, I do digress...
Embarking on using acrylics again (go, team!), I drew a simple composition on graphite and began to work out a color scheme.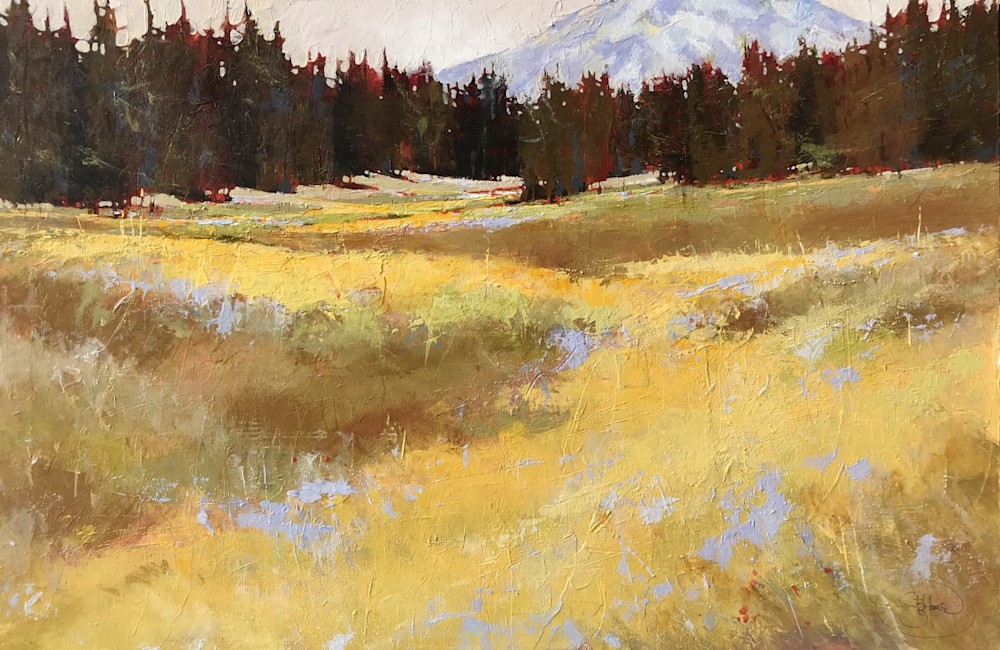 Freely interpreting the foreground and grouping the trees into a solid undulating mass, this landscape opens up to a peaceful sloping meadow. Light blue sparkles in the grasses indicate lupine or asters, and if you look closely, you will see the edges of some trees glow, making it seem as though late afternoon sunlight is filtering through.
I scripted words from Theodore Roethke's poem, The Rose, in the lower LH side of the painting.
I think of rock singing, and light making its own silence, at the edge of a ripening meadow in early summer. ~from "The Rose", by Theodore Roethke
Hoping for an uplifting painting and message, this landscape reminds me of that meadow, the day with my husband, and gratitude for the land.
Thanks for reading, everyone. Stay safe and well!
Silence of Light, 20x30 acrylic and mixed media on board, $1,400, now at Clearwater Gallery in Sisters, where I am featured artist this month through September. Stop by and see it and let me know what you think! Does it seem like a secret meadow to you?