Tranquility of Nature
When I feel a bout of worry coming on, I head into the woods.
It seems, at times, my brain is too loud for peace. There are conversations between Sarah 1 and Sarah 2 (and perhaps two or three more, hard to tell), back and forth over a myriad of topics.
Phones ding, computers beep, and even the refrigerator now advises me with a few notes or two about a filter needing replacement.
Noise and commotion within and outside my head can create havoc and stress. When it gets too much, I feel the need to escape it all and rejuvenate. Nature is a balm. A quiet walk, hike, mountain bike ride or kayak float takes me out of my head, away from the noise, and soothes my mind.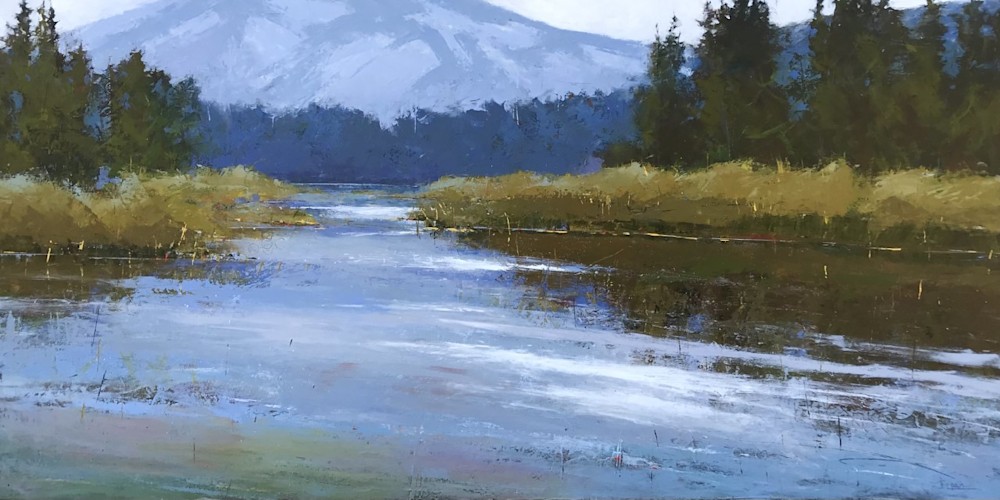 This new piece, titled Flow, conveys that feeling of tranquility.
He wanted the river to go on flowing the same way, to keep on flowing. He wanted to walk beside it.

~ from The Solitude of Cataracts, by Wallace Stevens
So simple, yet so real, so calm. To just walk beside a river, or perhaps float in it is usually all it takes to erase away confusion of our modern world.
Flow (Hosmer Lake/South Sister), 30x60, will be featured at Clearwater Gallery during my show August 27 - September 23, 2021. Hope you can stop by and experience the tranquility of nature.
Thanks for reading, and thank you for all your support. Cheers, my friends.