Wild Voices Show
Working to put together November's Wild Walks show has been a journey, a labor of love, and a discovery of new.
In February, when COVID was beginning to become an issue, I pulled out old photos of my hikes in Washington and Oregon, stretching back to when I moved here from Colorado in 1987. As I sifted through printed photos, CD's, slides, and digital images, memories tumbled around me. Hiking with the kids in Mt. Rainier, Mt. Baker, Mt. Saint Helens. Backpacking along the coast, the Olympic Peninsula, Puget Sound, Malheur, and in Central Oregon forests. Hearing wolves, coyotes, and foxes howl; seeing bear, foxes, weasels, bobcats, elk, beaver; birdwatching and listening to the many sounds of nature.
These photos and memories inspired me to paint a journey of those trails, some of which have changed due to human impact of the past 30 years.
Mount Baker, Washington, was the first painting I did for this show, in gouache and watercolor on board: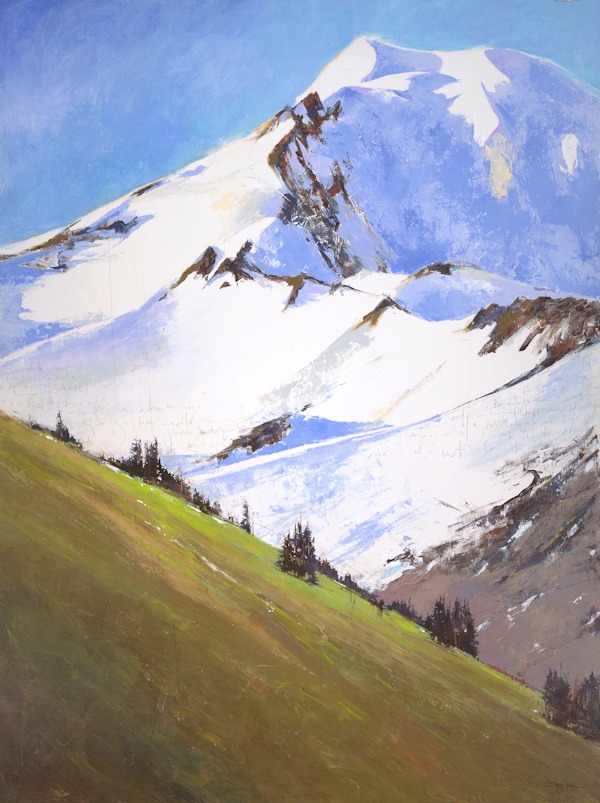 Glacial Song, above, describes the glory of Mt. Baker in an August summer with a heavy load of snow on its glacial flank. The script written in the painting is in the snowbank in the center LH side of the painting:
Listen in the cool morning for the snow beginning to melt, when water comes in precious drops and glistens on the perfect diamond of a boulder. ~Carlos Reyes, Canyon Echos
In the opposite climate as Mt. Baker, I painted a John Day pasture scene from our hiking trip in the Wallowa Mountains. In this painting, I used acrylic paint instead of watercolor and gouache. This was a relatively new medium for me, a discovery based on lack of painting supplies during COVID and based on my desire to paint more thickly with a palette knife. I found I the medium difficult at first, then fell for its responsiveness and color saturation.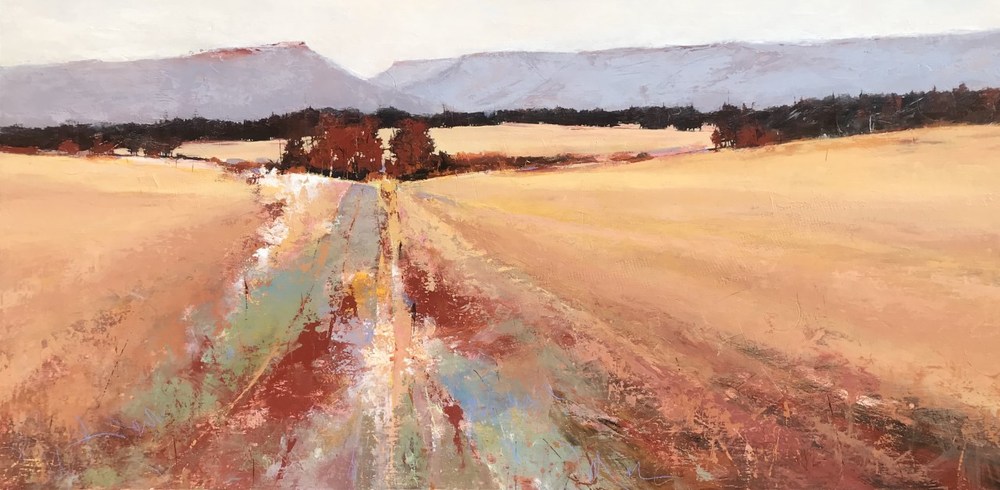 Sweet Questionings, above, illustrates the pastoral piece of farmland cradled within ancient bluffs. The writings in this piece illustrate the feel perfectly:
She says, 'I am content when the wakened birds, before they fly, test the reality of the misty fields by their sweet questionings.' ~ Wallace Stevens, Sunday Morning
While working on this series, I began to read books about Soundscapes, and the impact of human sounds on nature's creatures. I considered the noisy effects of vehicles, planes, and construction rigs. All summer, while creating these paintings, we continued to camp and hike here in Oregon. But as we camped, I listened, really listened, to what I heard in nature. It seemed to me that I used to hear many more birds, crickets, and frogs. The environment was indeed changing, even in remote areas. Human activity was impacting nature as I had known it my entire life.
: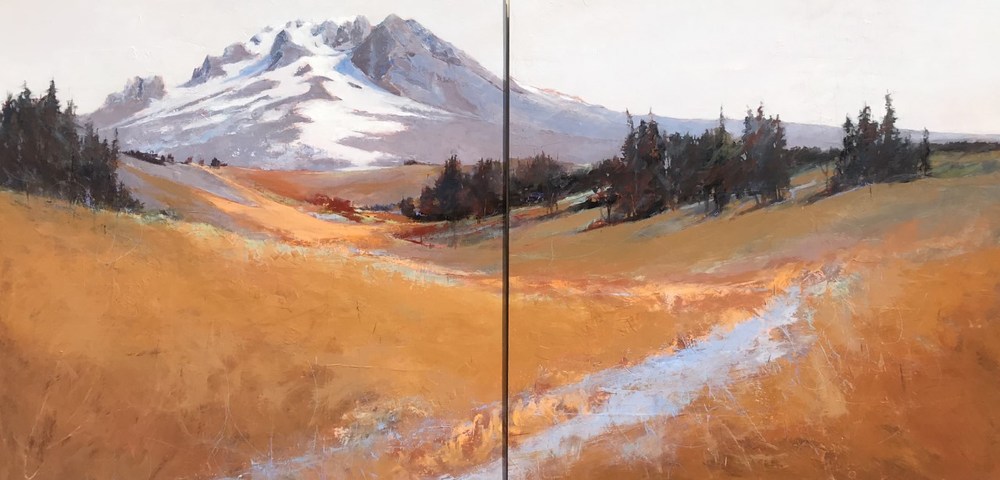 Wild Voices, above, is a moving announcement of nature's need to hear its own music. As we experience nature, we need to also think about life in the wild beyond a visual experience. In the painting, I wrote a selection of a book I read by Bernie Krause:
Take a deeper plunge into a wilder world beyond the mundane and merely visual, suggesting that the natural world is both more complex and more compelling than meets the simple eye. ~ Bernie Krause, Voices of the Wild
As I began to delve deeper into the fascinating world of sound ecology, and the impacts of human noise on nature's creatures, I connected with a wonderful man from Puget Sound, Gordon Hempton, aka Soundtracker. Gordon has pursued the earth's rarest sounds, circling the globe three times, to record the voices of nature. He has been featured in People magazine, has gained an Emmy for the documentary Vanishing Dawn Chorus, and has provided audio services to Microsoft, Smithsonian, National Geographic, and the Discovery Channel, among many others. He is the founding partner for Quiet Parks International.
At my request to use one of his beautiful profiles as an audio immersion with my Portland show, he honored me instead with personalized tracks of two hour-long audio recordings of nature, specially mixed for my paintings. In his words:
At first I simply looked at many of Sarah's paintings in this show. Time of day and seasons are indicated, as are the echo of acoustics by the shape and texture of the natural concert halls. As I listened to her paintings, they began to speak in winds and birdsong. I wanted to work the the fragility of the air by keeping the audio delicate an suggestive, not bold and loud, and wanted our audience to feel secure - swaddled - in an immersive experience. ~Gordon Hempton
I am so very honored to be able to share these tracks and this experience at LVD&G in Portland. The tracks will play subtly in the background during the show, creating ambience in a gentle return to our natural biorhythms, lowering our heart rate, and reducing stress from our noisy and busy daily lives.
As I created the many paintings for this exhibition, I thought of my life, hiking in the Pacific Northwest Wilderness and the joy I received from those experiences. I wanted to share that joy, and remind us all to care for the wilderness. During my painting journey, I learned new mediums and techniques, and a new concept in thinking of the wild through auditory immersion.
My genuine hope is that through this collaboration, through the expression of a visual and auditory experience of the show, that together, we can honor nature's wilderness; her home to many creatures. That we can stop and listen to the world around us and begin to consider how to save quiet spaces; spaces unaffected by human noise. That we can preserve large swaths of wild land, not only for nature's creatures, but for us, for humankind, and for the health of our Earth. I also wanted to provide a small gift to you all; a gift of quiet and peace in nature in this time of stress and anxiety.
Thank you for reading, everyone. In this time of the pandemic, it may be difficult to see the show. If you are in Portland, however, try to drop by. The gallery is in a large, open space, and masks and social distancing practices are adhered to. I believe the show will be worth the effort. Many hugs to you all and thanks for supporting the arts.
For this show, LVD&G and I will be contributing a percentage of the proceeds to Quiet Parks International.