Finding Focus and Mood
What do you see in this photo?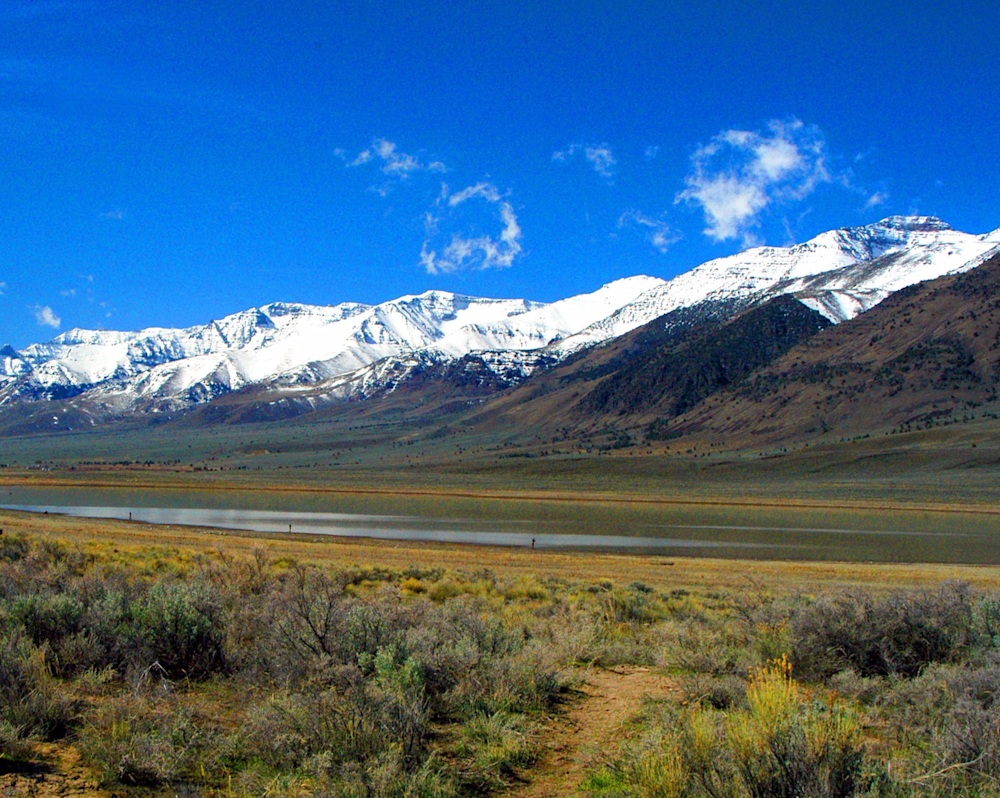 Everything, right? That's the beauty of photography. Photos capture it all, from big mountain ranges to small shrubs.
Adversely, the beauty of painting is the ability to edit and manipulate landscapes into a focused message.
In painting a Steen's Mountain landscape, I wanted to convey my message of a hushed summer day by concentrating on three elements: 1) beautiful lines of the snow-capped ridge, 2) quiet time at Mann Lake, and 3) a pattern of abstracted shapes created from the area topography.
In order focus on these elements, I cropped the scene, zooming in to one vertical section. This highlighted the fabulous snowy ridge line and accentuated sloping landscape shapes. Horizontal lines of reflection and grass in the foreground quieted the gently sloping scene.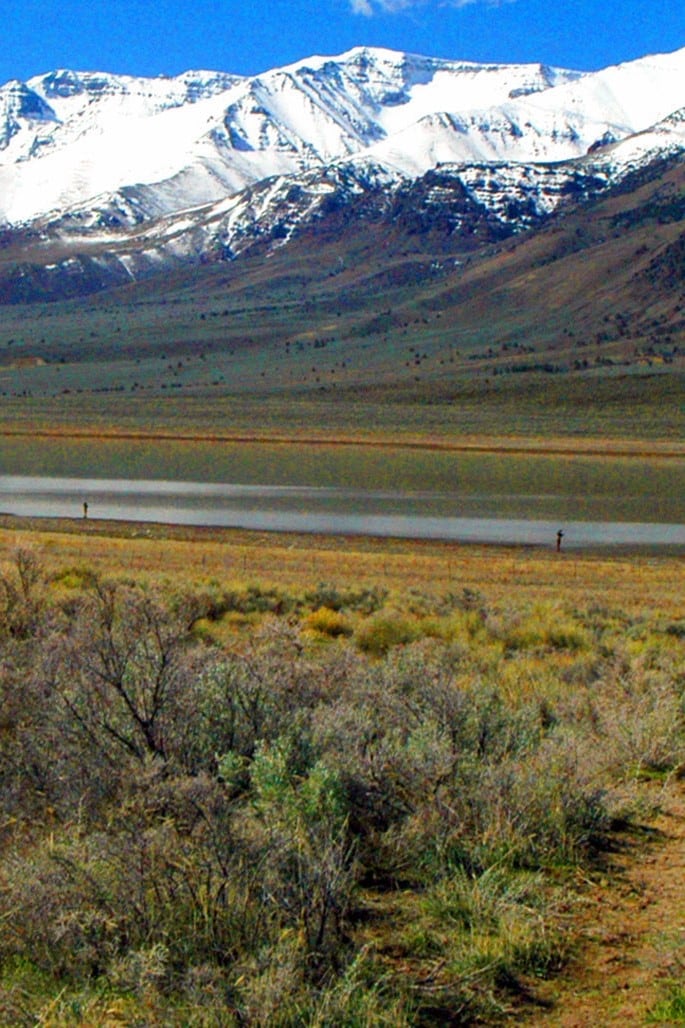 Using a watercolor pencil, I sketched main landscape shapes onto the prepared board, adjusting shapes into a pleasing composition as I drew.
Next, the exciting part: Painting! I begin by laying in mountain ridges, painting only the rock outcroppings, and leaving white gesso base as snow. The complex pattern of dark against light provides the painting with a strong focal point.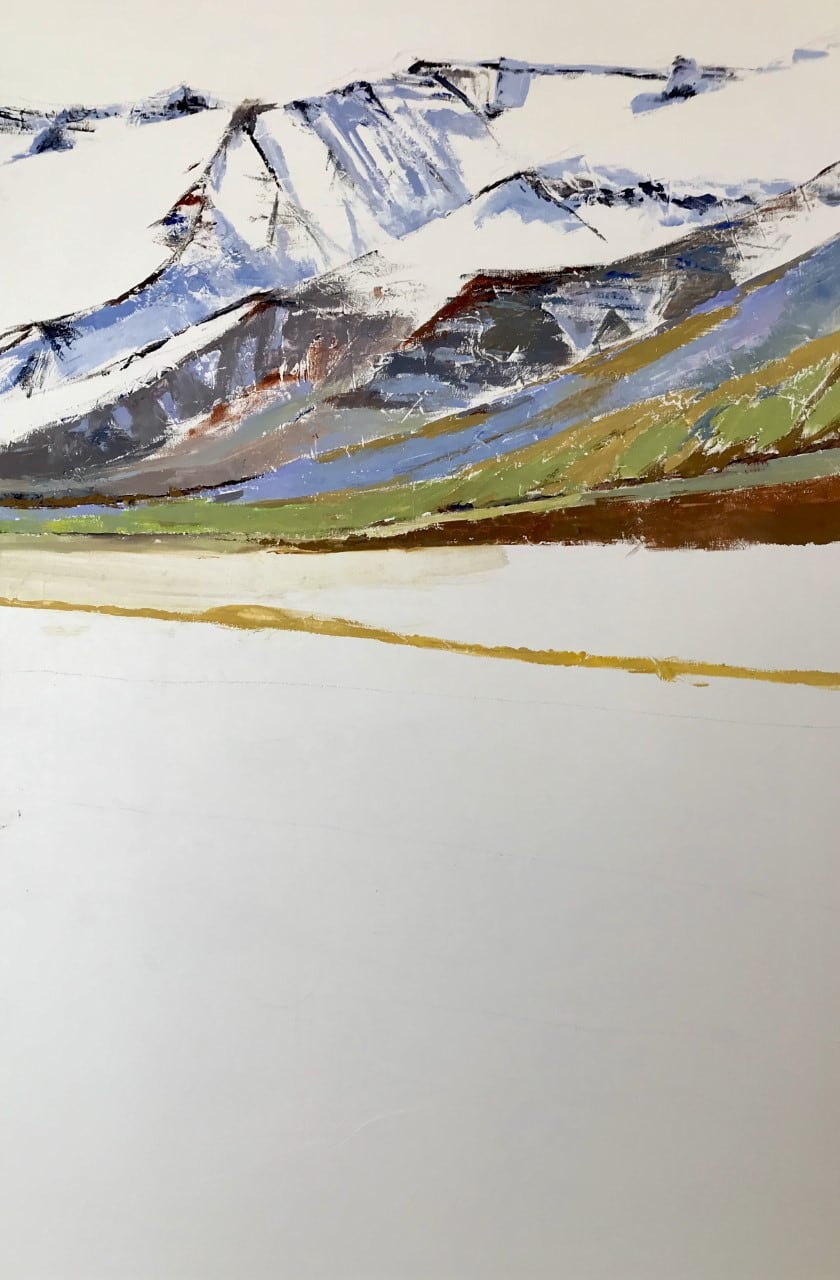 As I moved down the painting, I added in sloping horizontal colors, depicting different areas of rocks, dirt, or vegetation. Reflections in the water reflect sky and snow, quieting the scene. Green and brown grasses near the bottom of the painting are warmer in tone, making them feel as though they are near; right under your feet.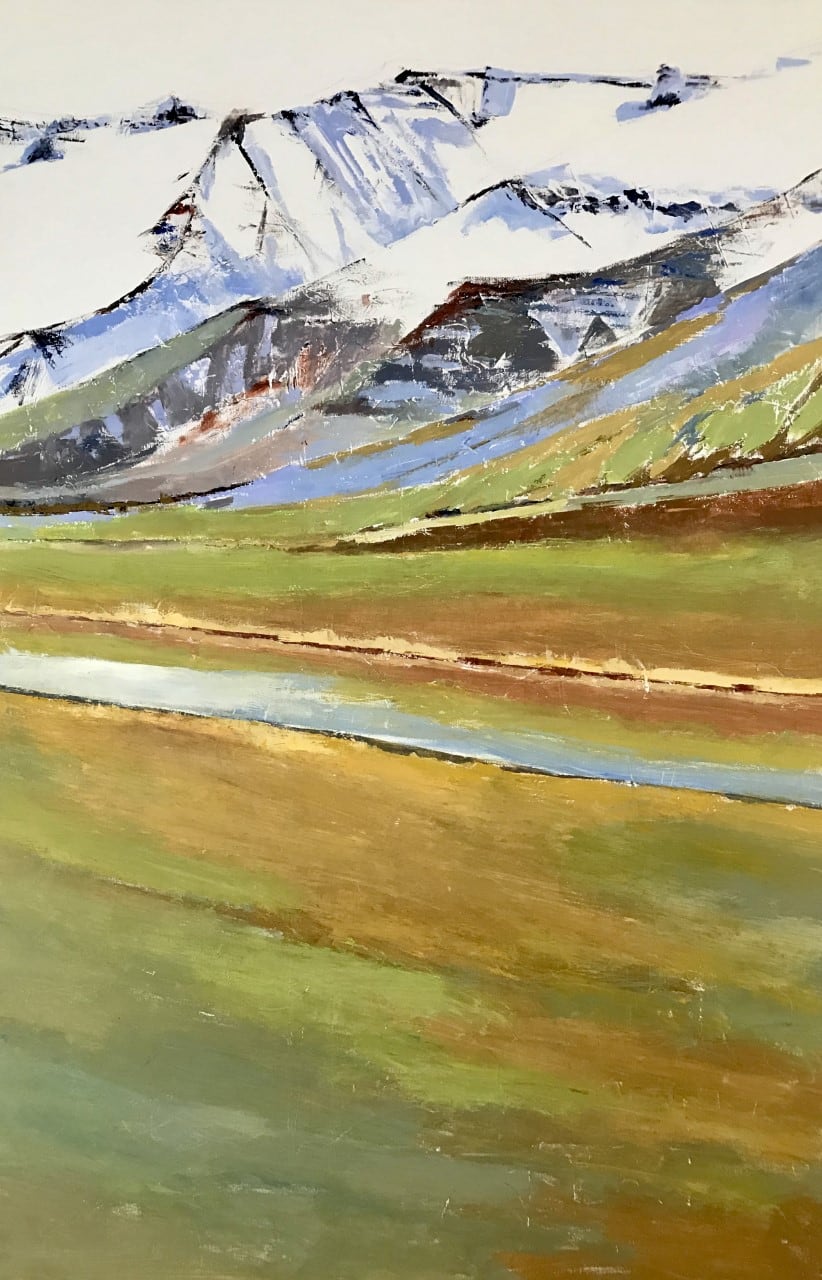 I painted in a soft yellow sky to suggest a warm summer day.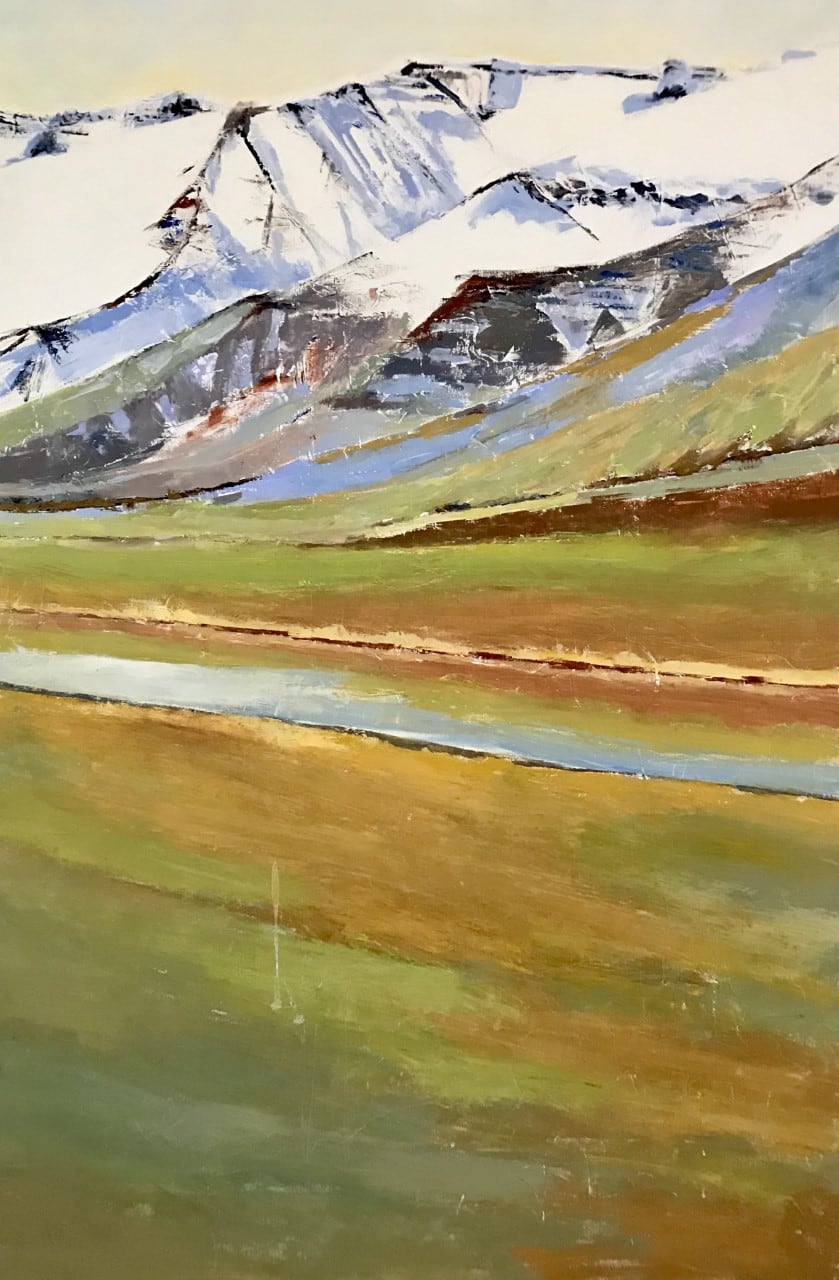 But, as things often go, I decided the soft yellow sky didn't provide the mountains with enough contrast. I changed its hue to a combination of Manganese Blue and Ultramarine Blue. Ahhh....yes. Now if felt like a hot summer day with a clear deep blue sky. Now the mountains popped out and became a focal point.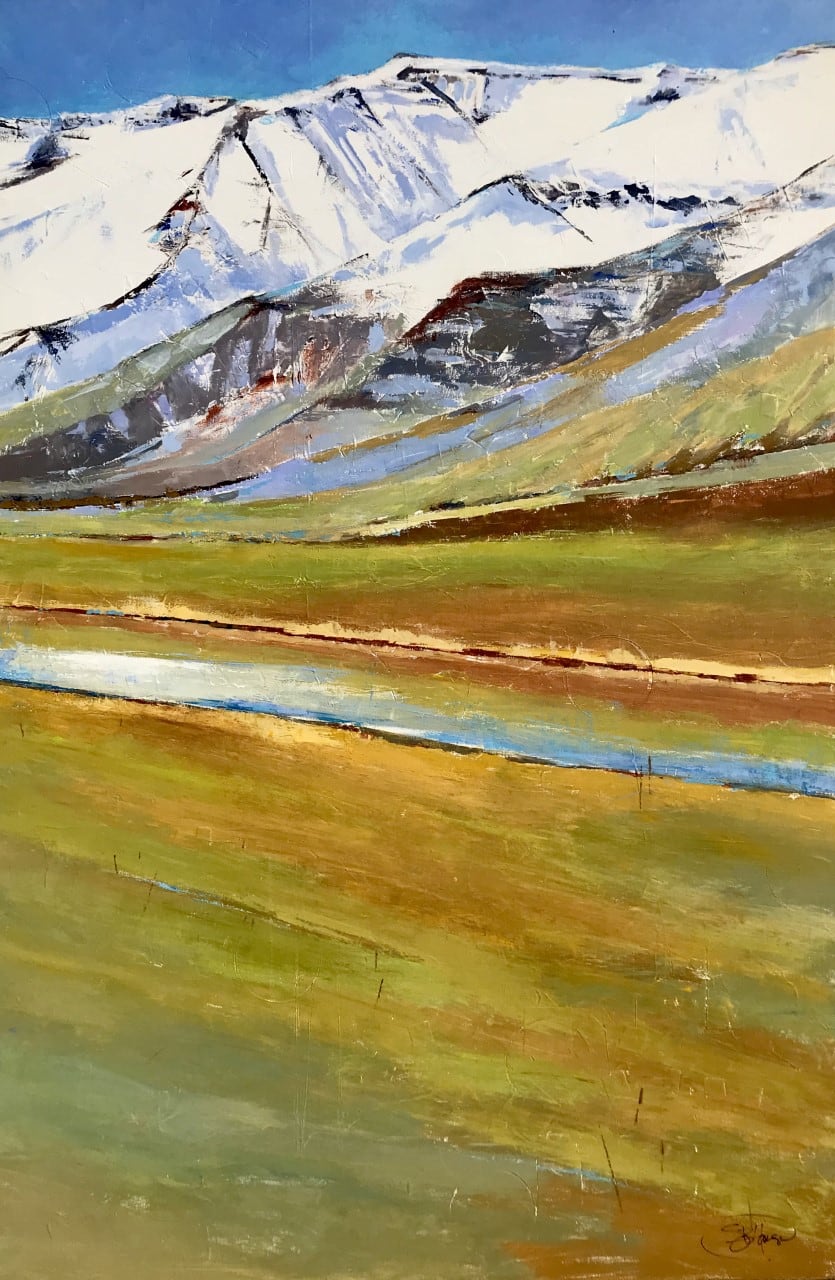 Next, selecting words to be written within the work. I came across Thirteen Ways of Looking at a Blackbird, by Wallace Stevens, choosing a part that felt like suspended time. This reinforced a hushed, quiet moment I desired; the wonderful feeling of listening to a blackbird's call and how perhaps the moment just after, as it lingers in the air, is better.
I do not know which to prefer, the beauty of inflections or the beauty of innuendoes, the blackbird whistling or just after.

~Excerpt from Thirteen ways of Looking at a Blackbird, by Wallace Stevens.
By selecting certain areas of a landscape scene and adjusting elements in a painting, I can create a mood of a hushed, summer day, sitting on the bank of a lake, pondering blackbirds and ridge lines.
Finished work, After the Call, 30"h x 20"w, $1,400, mixed media on cradled birch board. Ready to hang and available.