Workshop - Telluride June 2020
My recent three-day workshop in Telluride, Colorado felt almost like a guilty vacation. Yes, I was working everyday, teaching Textured Landscapes at the wonderful Ah Haa School for the Arts. But! every morning before class, I went for a short hike, right outside my guest house door. It was UP, too, by the way. With an elevation of about 8,750 feet above sea level, I like to say I wheeze-hiked.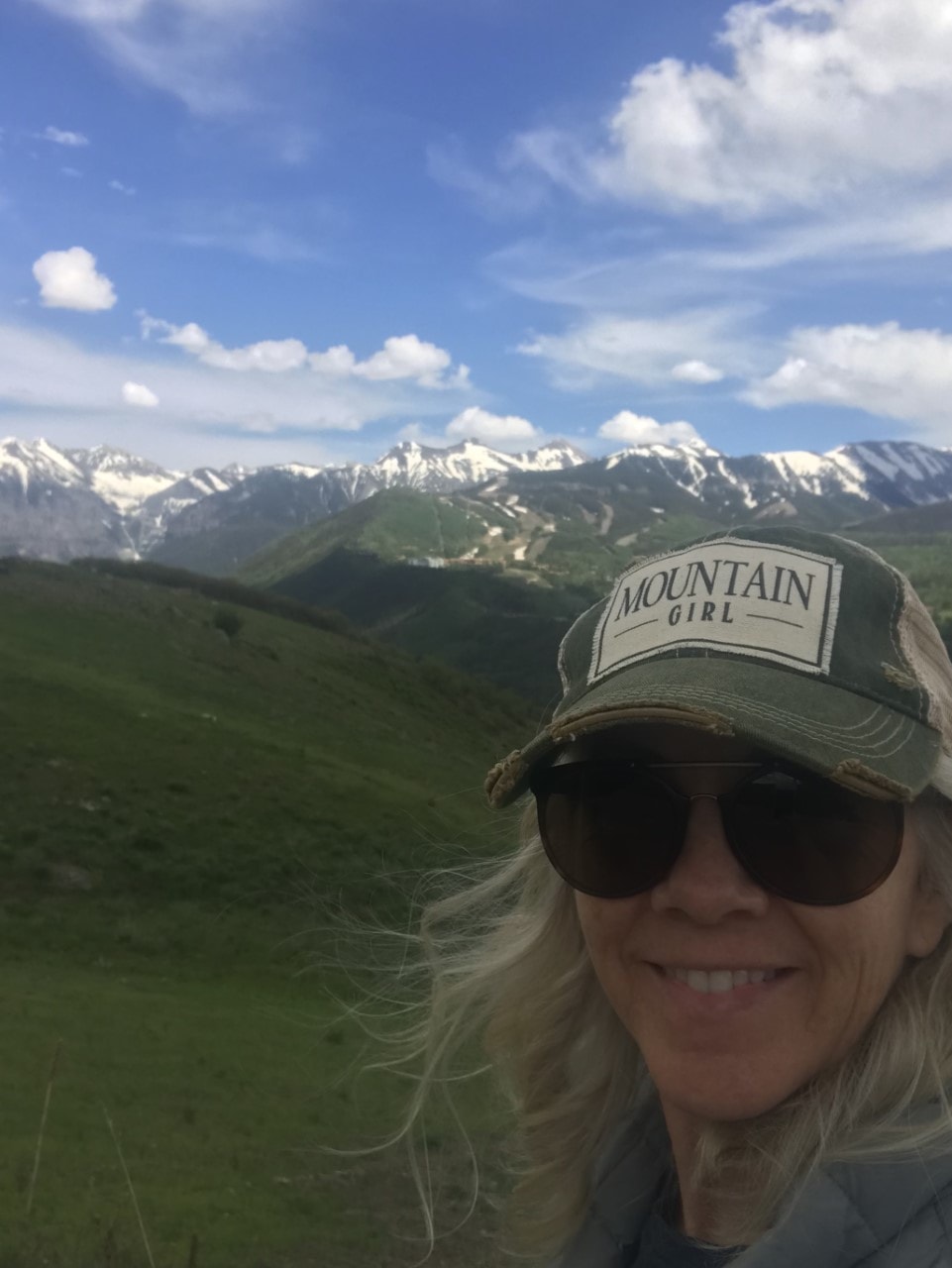 Most of you know I was born and raised in Colorado, about 1.5 hour drive from Telluride. I must say, during my stay, I did feel a sense of loss at having missed so many years living in the mountains. But then I look at all the experiences I've had hiking the Pacific Northwest, and I really shouldn't complain. But I DO love the high alpine forests.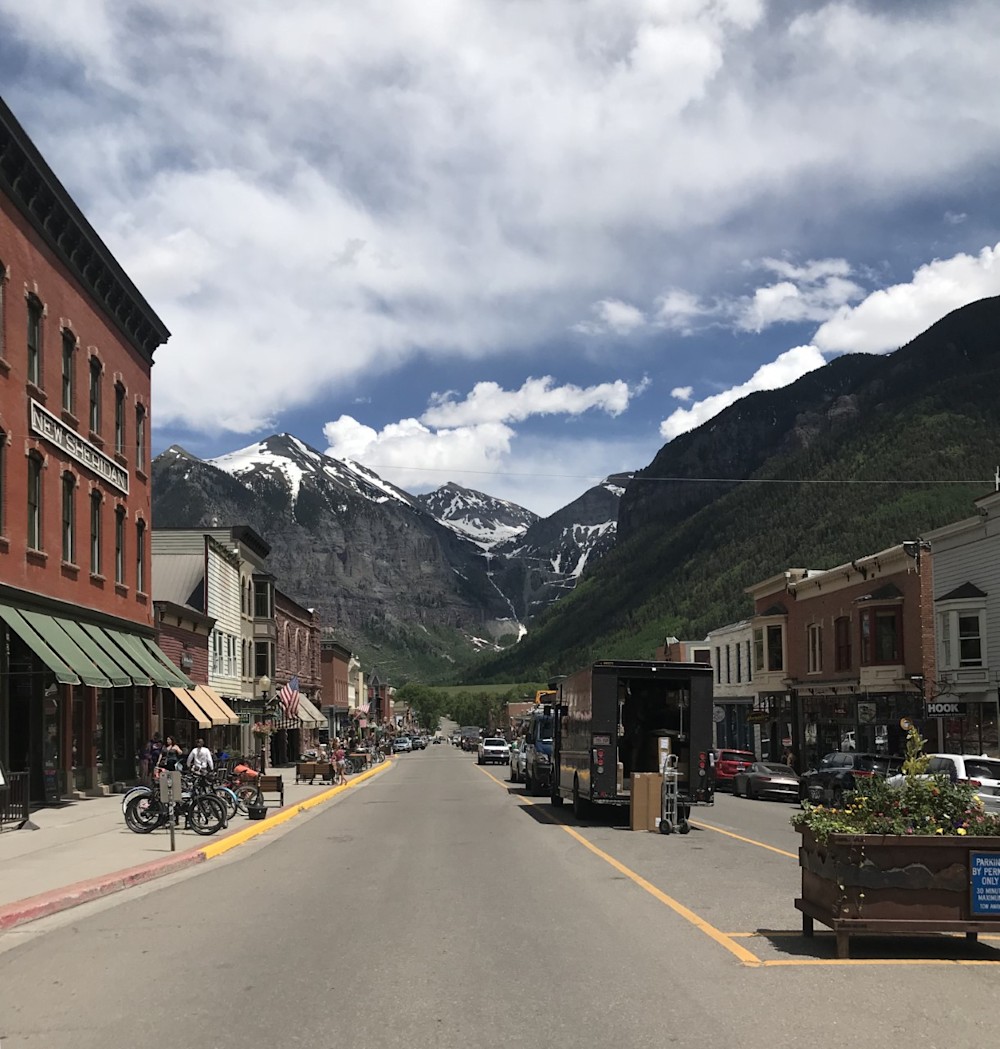 The little town of Telluride is adorable. Here is main street, about 2 blocks from the Ah Haa School.
Anyway, every day, I would teach my workshop from 10-4. We had a beautiful classroom, in the old train depot, located right on the riverbank. We would open the huge doors during the day and let the breeze flow through, as we looked out the deck to the mountains and river trail.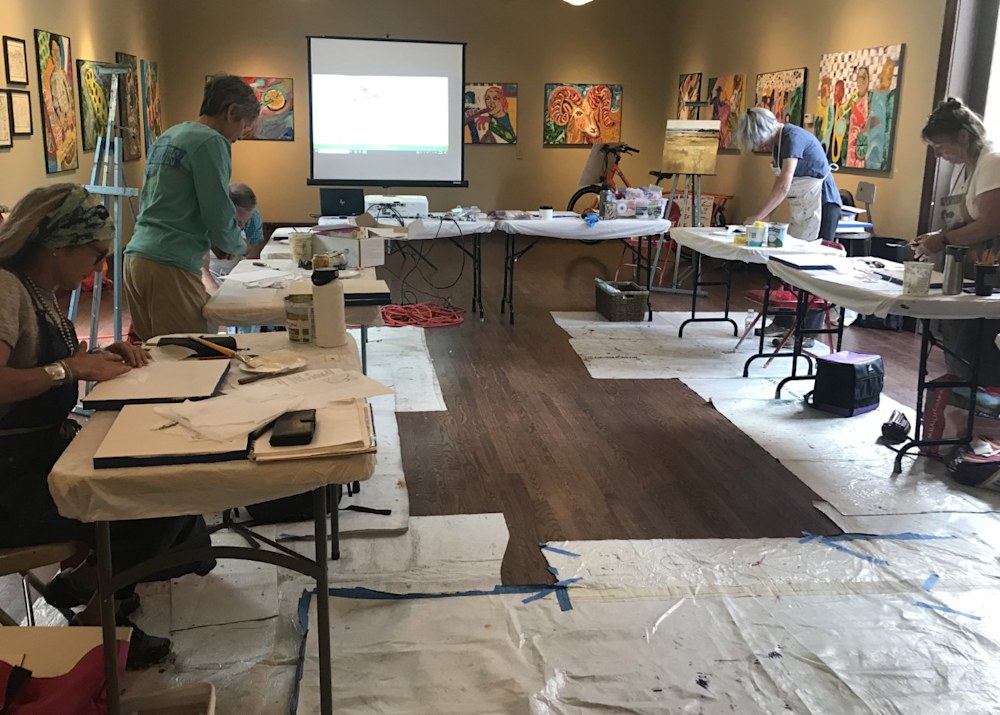 First day of our workshop, I taught composition, values, and abstraction of the landscape. Everyone had a chance to work on their 2 landscape designs, based on simple rules of composition and design theory. At the end of the first day, I demonstrated how to texture birch panels to create an interesting base for their artwork.
On the second day of the workshop, I taught a short lesson on color theory, had everyone work on color choices for their pieces, and then we began to paint!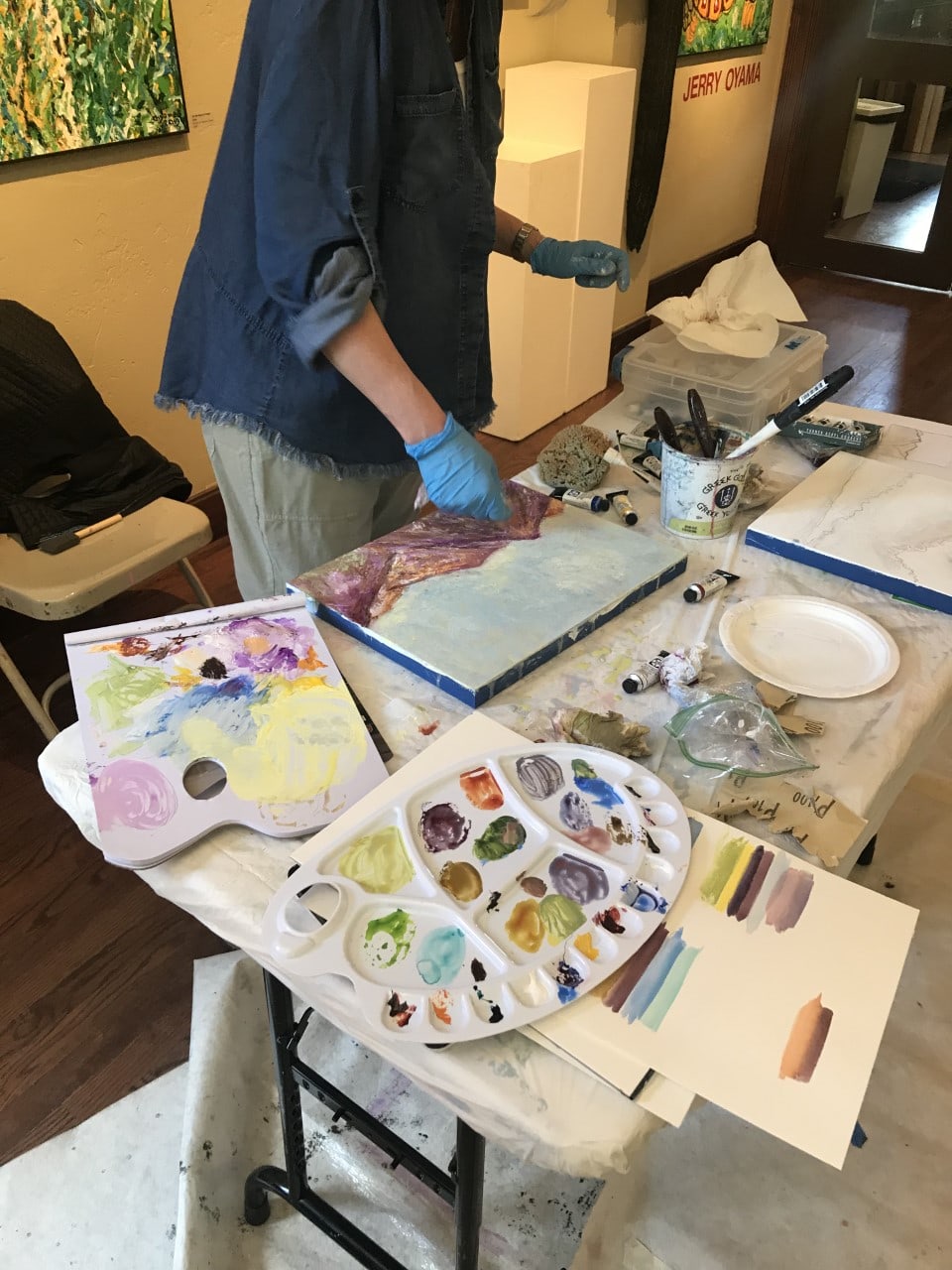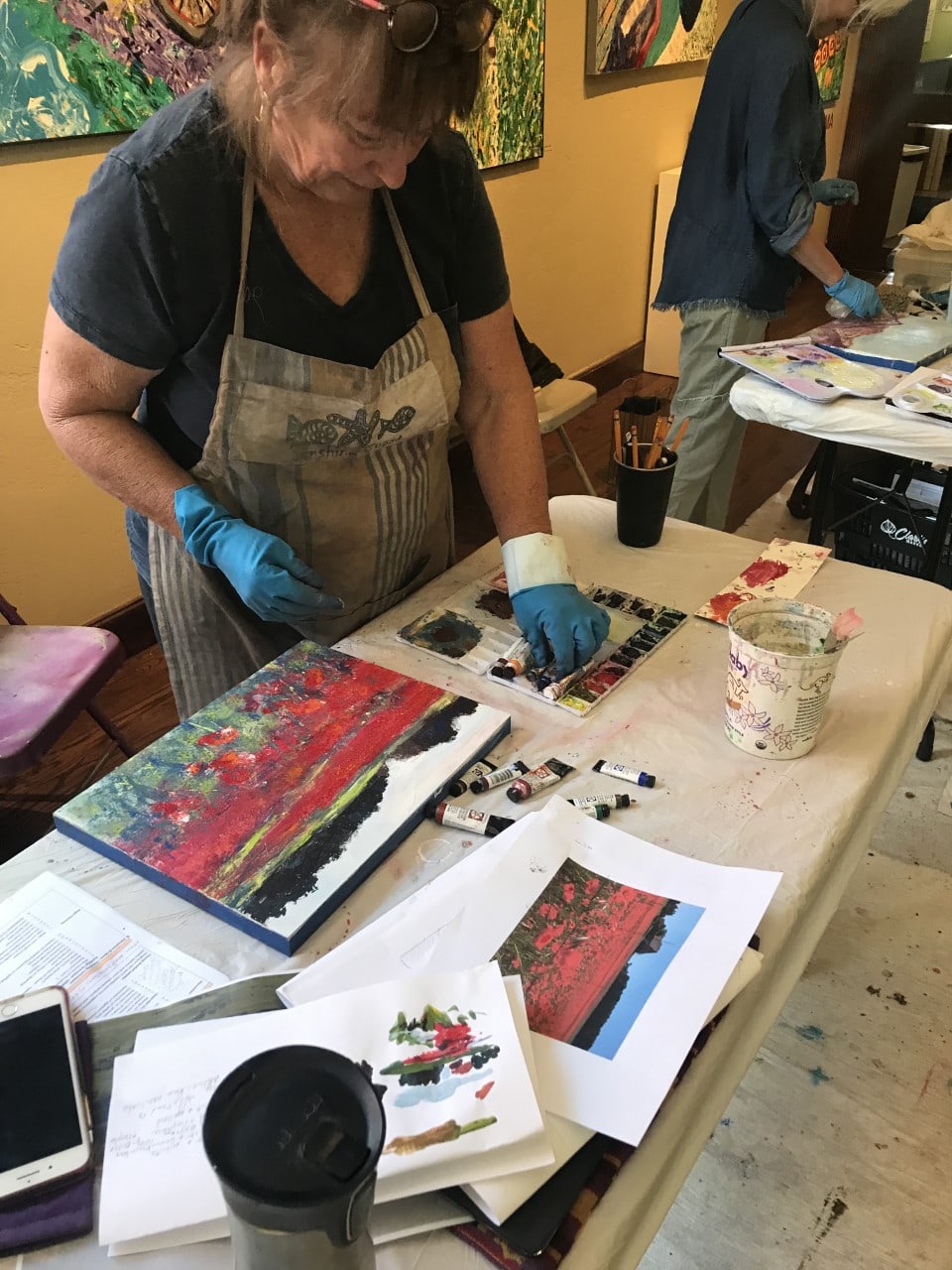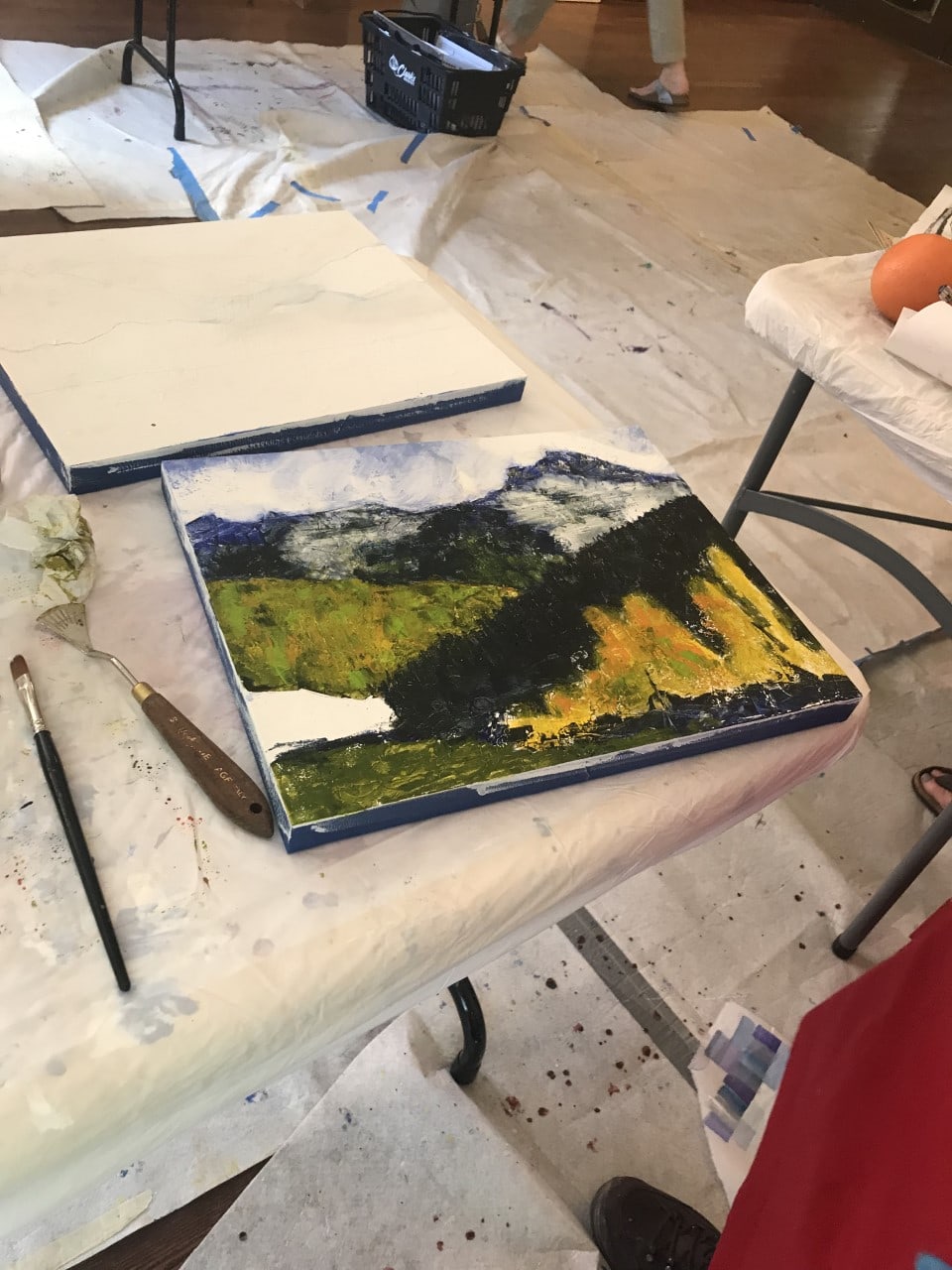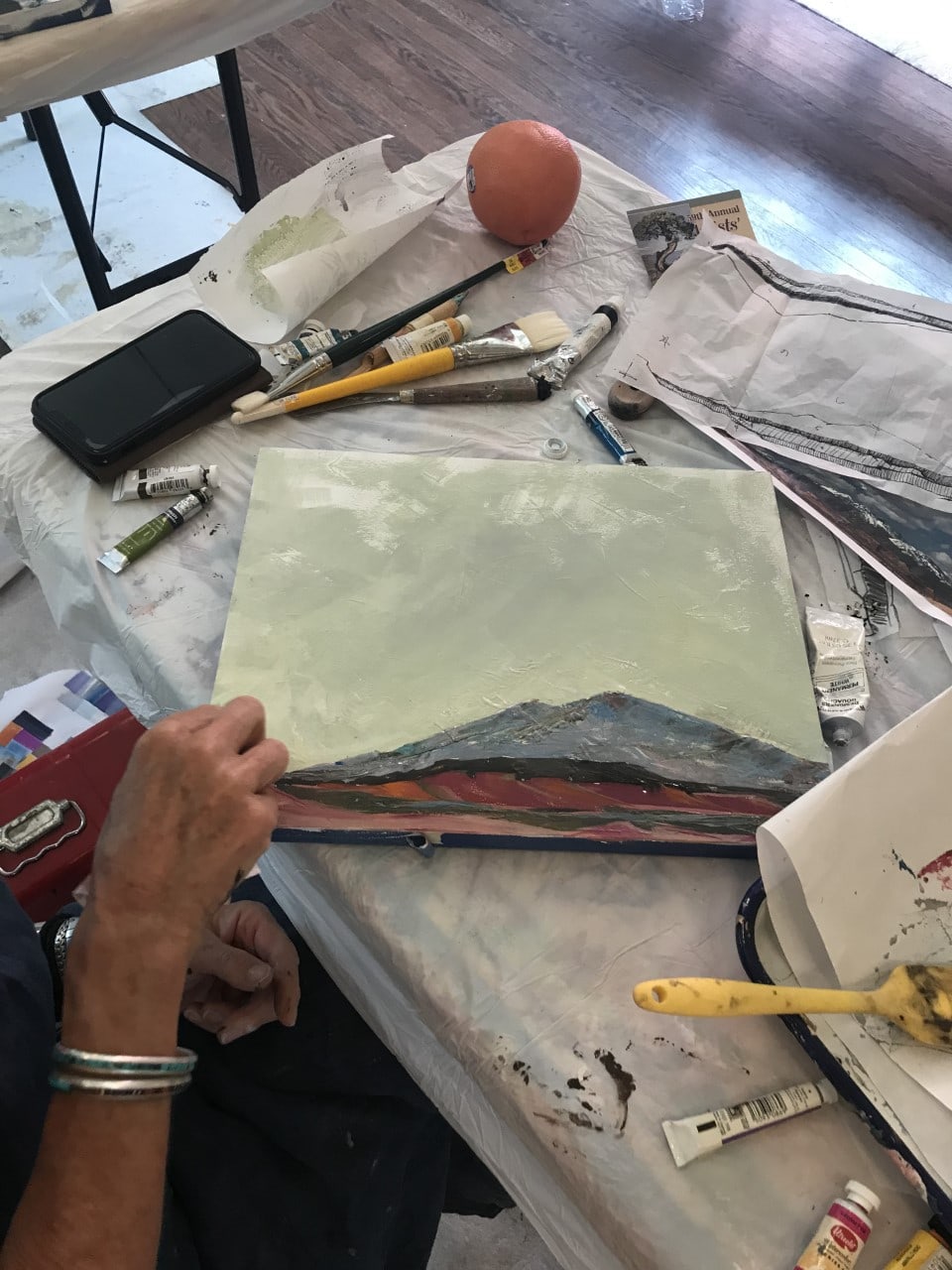 During the final day, the paintings were analyzed and adjusted for color, value, interlocking shapes, and details. In the end, everyone was very excited about the workshop and the new techniques they learned.
Here is the group photo of the final pieces painted.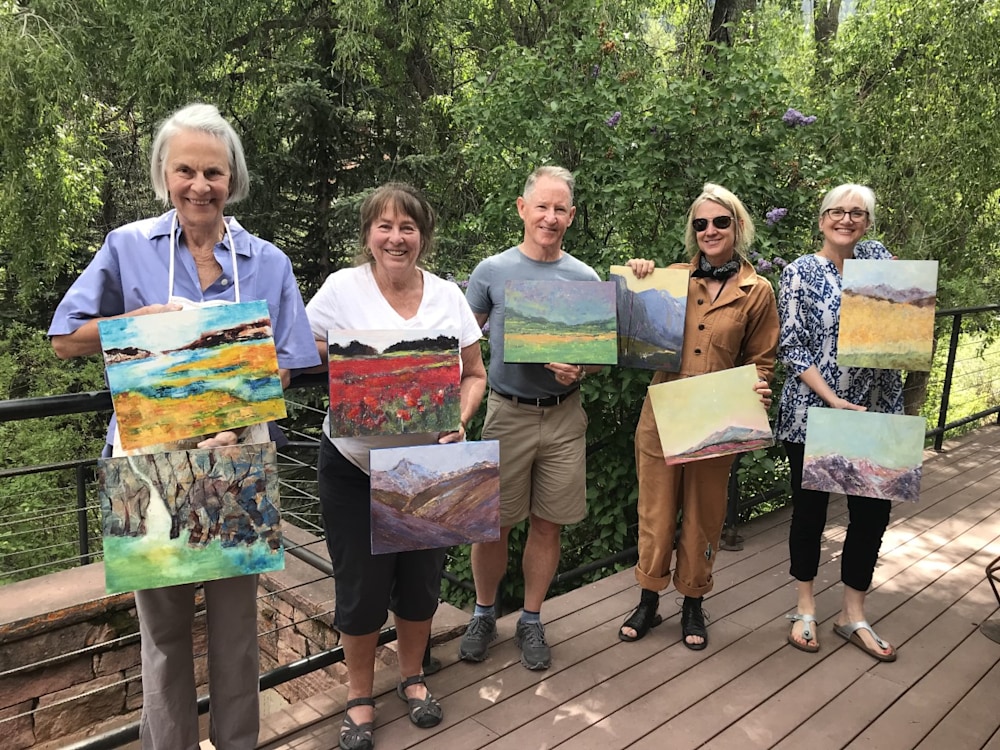 At the end of a workshop, I always feel a little sad, as I've spent 3 days with the students and I miss them! But we establish friendships and connections along the way, and hopefully continue to keep in touch.
Speaking of those special connections, here is one of those amazing people from my class, who ended up purchasing Weightless Change, shown below. I think we will be friends for life...:)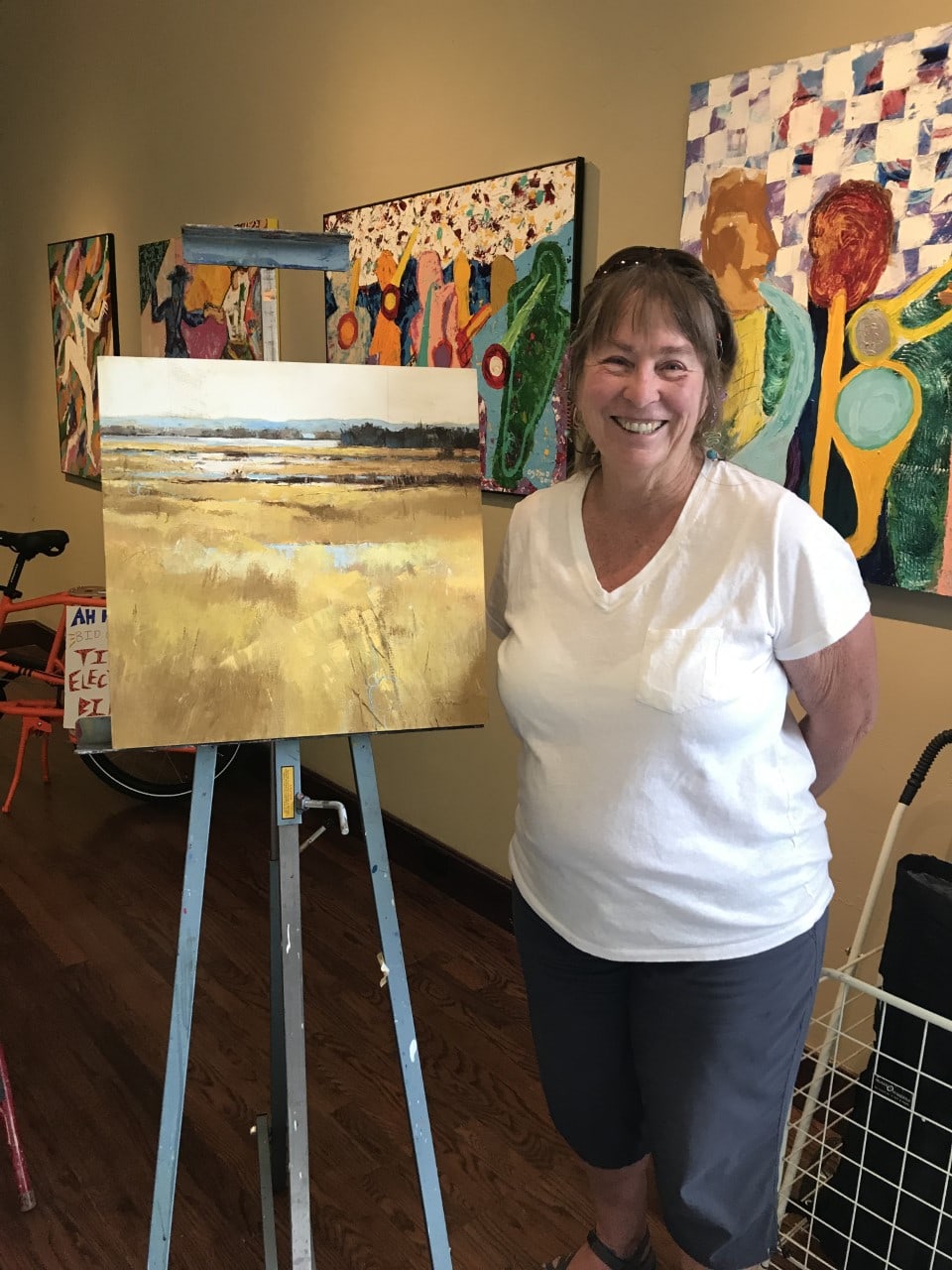 The workshop was such a success, with positive reviews, that Ah Haa has asked me back again for next year! I'll be there in June of 2020. Will you join me??
After the workshop, I remained in Telluride for a couple more days. We actually got out on the trail and painted en plein air.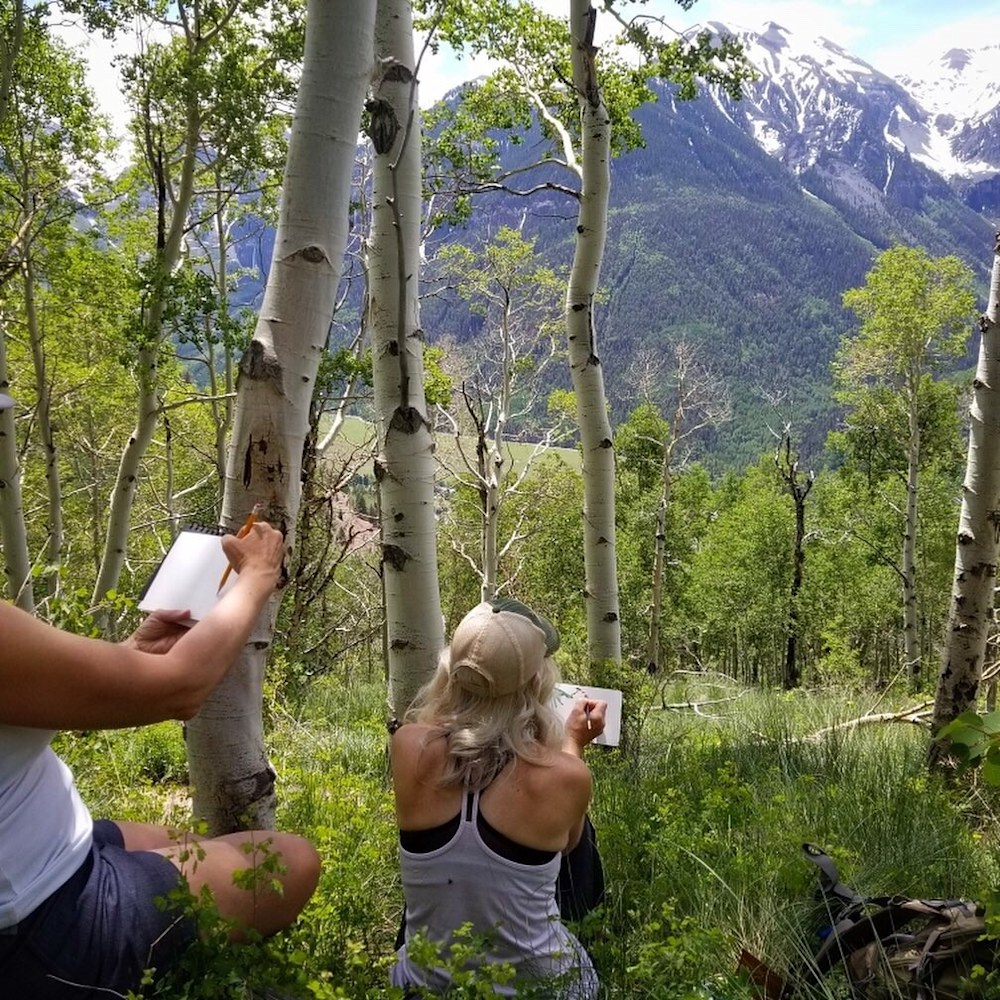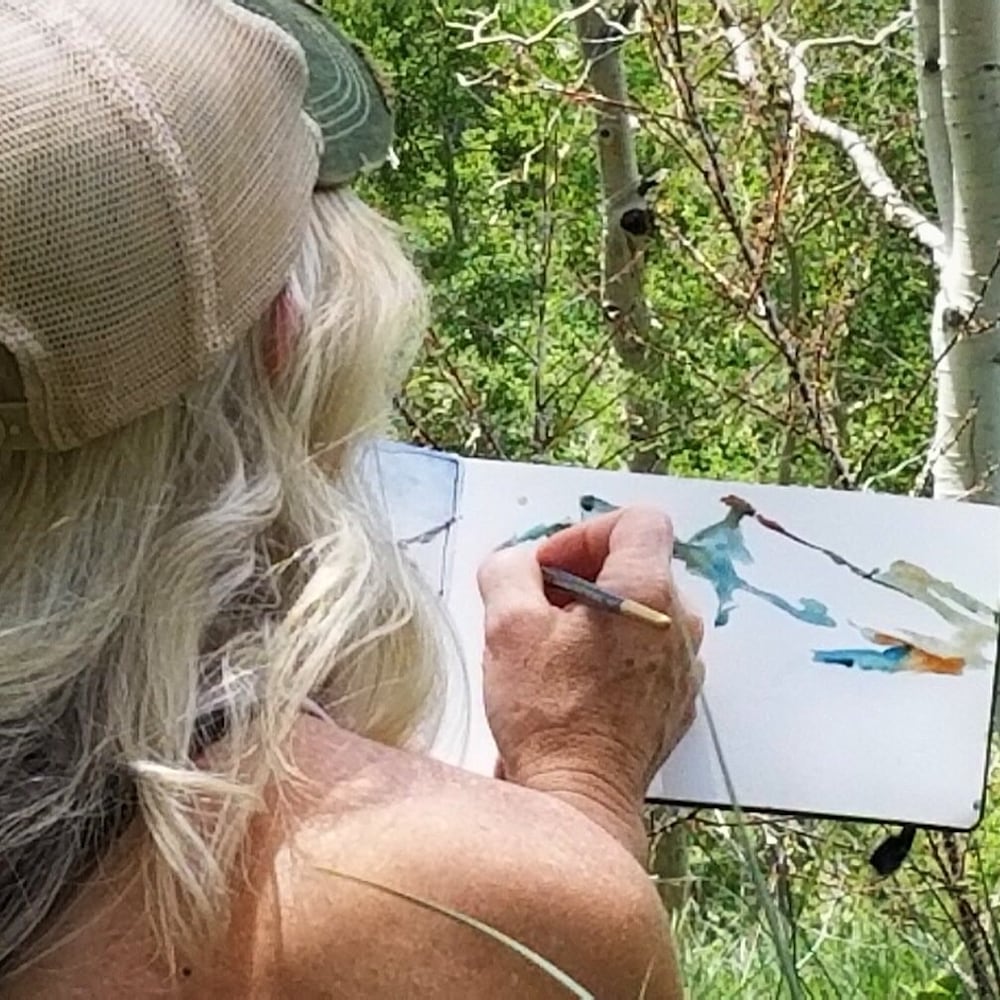 (Thanks to Tom for the pics...)
I managed to do a small watercolor sketch of the San Juan Mountains.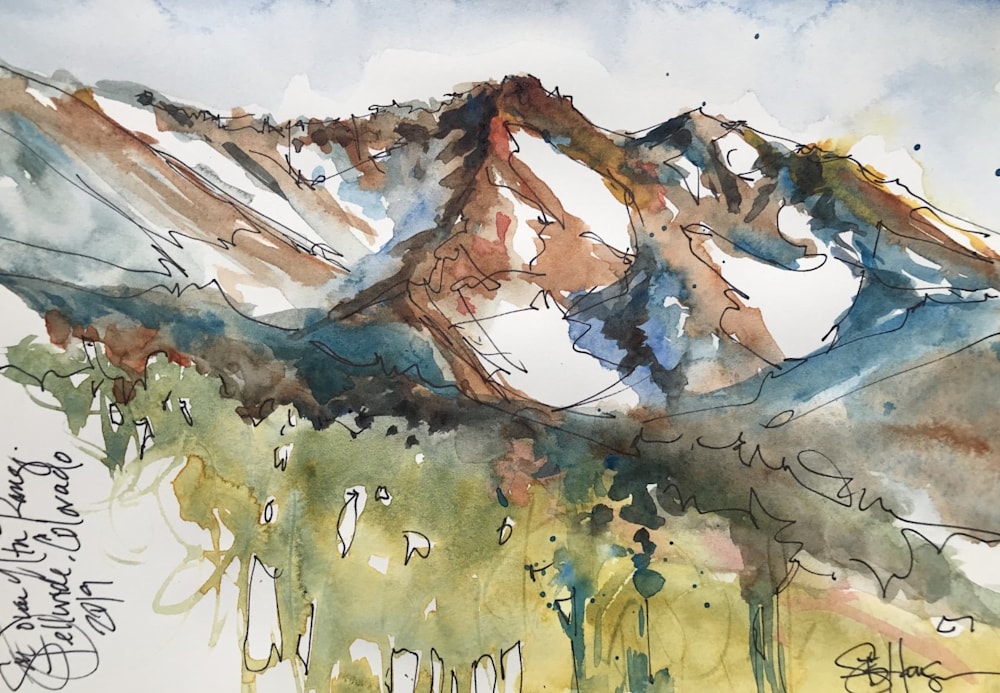 And when we got out of Telluride, up near the tiny town of Ophir, I snapped off MANY reference photos.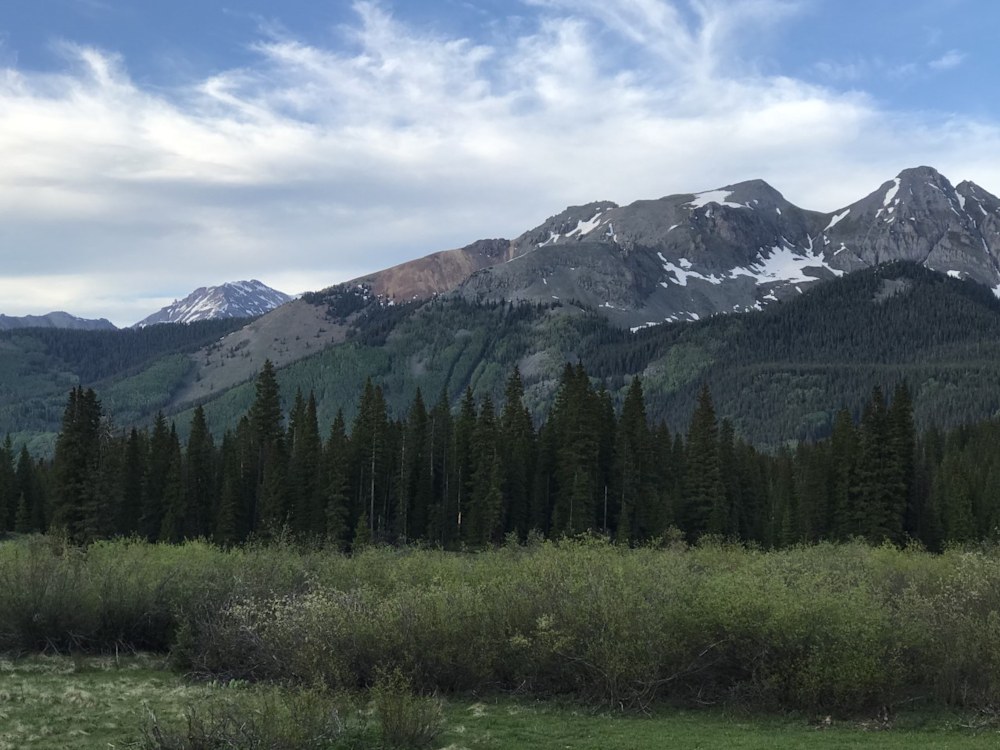 Found a super bloom near Placerville: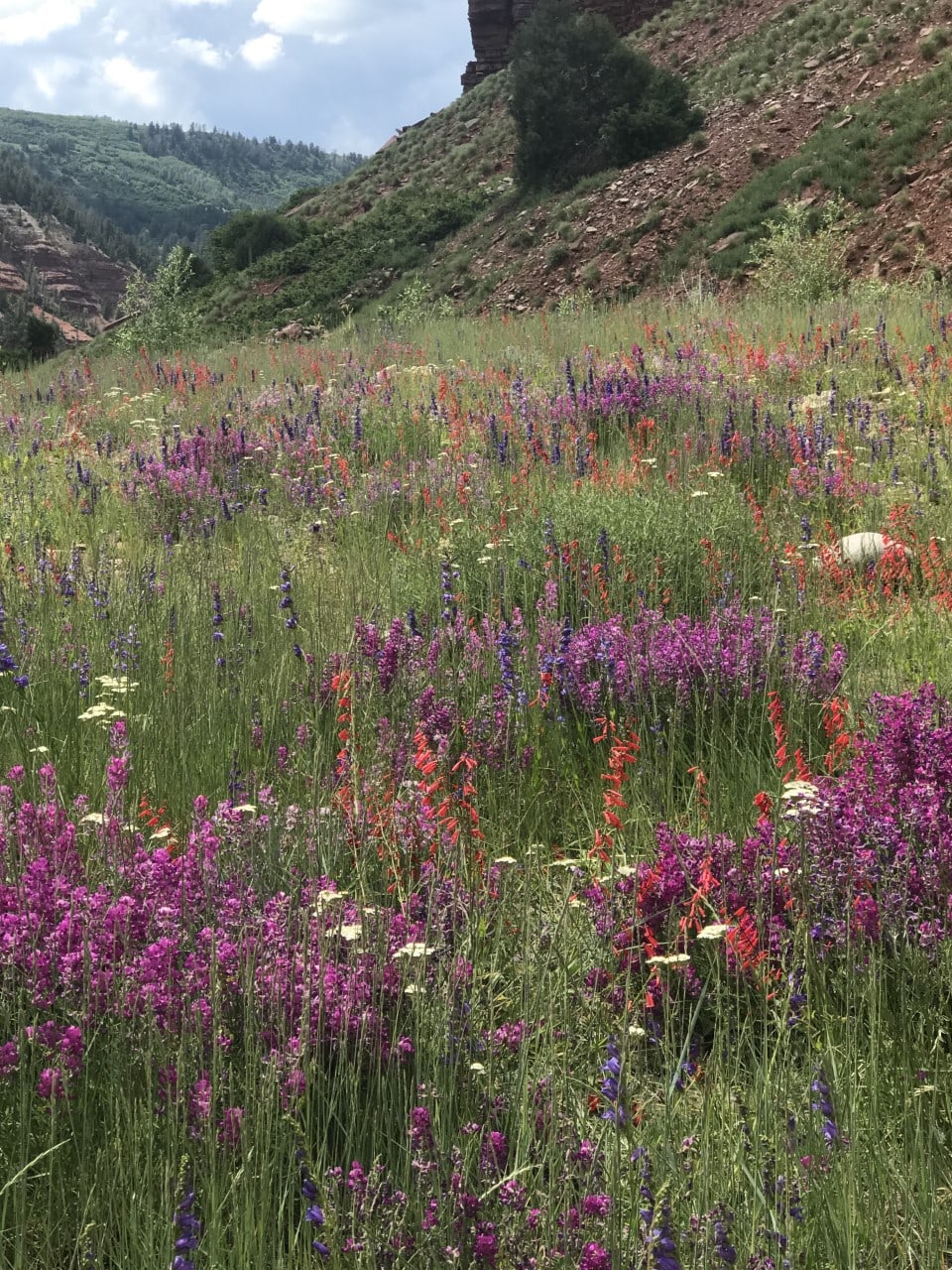 Now, when I'm in my studio in Bend, Oregon this winter, I'll have many photos from which to paint!
Looking forward to returning again in 2020. This was an incredible time, guilty vacation/work. I'm so grateful to be able to love what I do and do what I love. Cheers to you all and enjoy nature!